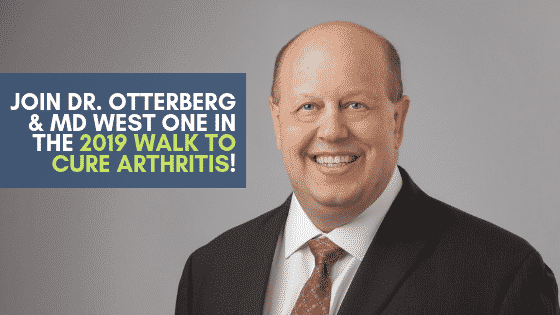 We're proud to announce we're the Gold Sponsor of the 2019 Walk to Cure Arthritis this Saturday, June 1 at Werner Park.
The Arthritis Foundation of Nebraska's Walk to Cure Arthritis is this Saturday, and MD West ONE is honored to announce we're this year's Gold Sponsor thanks to Dr. Erik T. Otterberg, a hip and knee orthopedic specialist at MD West ONE. Dr. Otterberg and MD West ONE treat so many patients who are affected by the various forms of arthritis. Therefore, supporting a cause that raises the crucial funds needed for research, resources and cures is something we're passionate about.
Did you know 1 in every 4 Americans has arthritis? That makes arthritis the nation's leading cause of disability.
Two-thirds of those affected are under age 65, including 300,000 children. Arthritis is painful, debilitating and diminishes the quality of life for those affected. But every day we're making more headway through scientific discoveries that bring us closer to a cure. Whether you're an arthritis warrior yourself or care about someone who is, sign up and WALK to CURE Arthritis.
Join our team and join the fight to conquer arthritis!
Our Walk to Cure Arthritis team is committed to helping the 54 million Americans with arthritis, including 300,000 children, live the fullest life possible. We're also committed to finding a cure. Join our team and raise funds to conquer arthritis and make a life-changing difference, all while having A TON OF FUN! If you can't join the team, we'd appreciate your donation to help reach our fundraising goal. Join our team or donate to the cause here.
Event Information
Walk to Cure Arthritis is the Arthritis Foundation's nationwide signature event that unites communities across the country to put an end to arthritis. We aren't just helping the millions of people with arthritis to live better; we're charting the course to a cure. 
Event Location
Werner Park
12356 Ballpark Way
Papillion, NE 68046
Event Schedule
Saturday, June 1, 2019
8:00 - 9:30 a.m. - Check-in
9:30 - 11:00 a.m. - Walk Begins - 1 mile and 3 mile
11:00 a.m. - 12:00 p.m. - Awards & Prizes
Additional Information
Dogs are welcome and must be on a leash.
Strollers welcome.
All individuals entering the Walk must be pre-registered or register that day, unless you are a sponsor hosting a booth or an assigned volunteer.
For help or more information about Walk to Cure Arthritis - Nebraska, contact Sally Stalnaker at sstalnaker@arthritis.org, or call 402-262-0144.