Treating Work-Related Injuries with Workers' Compensation
At MD West ONE, we understand the special challenges presented in treating work-related injuries and conditions. We know there is a delicate balance between providing conservative treatment while quickly returning employees back to work, and providing excellent medical care to the injured worker.
We are dedicated to making workers' compensation cases as seamless as possible. We believe in working closely with the patient, the employer, and the insurance carrier to develop an appropriate course of treatment.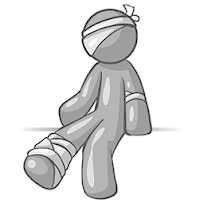 DEDICATION TO WORKERS' COMPENSATION
WE HAVE THE FOLLOWING SERVICES TO DEMONSTRATE OUR COMMITMENT TO WORKERS' COMPENSATION CASES:
Coordinated case management
Conservative approach to care
Safe, quick return to work for employees
Several convenient clinic locations around the Omaha metro
Immediate appointment access through Ortho Urgent Care
Access to 24 board-certified, orthopedic sub-specialized physicians and 9 board-certified neurosurgeons
A history of experienced, high-quality professional care
Comprehensive head-to-toe-care for nearly all musculoskeletal injuries and conditions
Contact Information
Neuro and Spine Work Comp
Phone: (402) 390-4111 opt 2
Fax:  402-398-9253
Orthopedics Work Comp
Phone: (402) 361-5234
Fax:  402-398-9253
Workers' Compensation Patient FAQs 
CAN MY EMPLOYER SAY THAT MY INJURY IS NOT WORK-RELATED?
Your Workers' Compensation insurance carrier will investigate your claim and make the final determination as to whether or not your claim is work-related. Physician notes, as well as other resources, can be utilized when making that decision. If you have any questions in regards to the acceptance of your claim please reach out to your claims adjuster for details.
WHEN WILL I START GETTING PAID?
We recognize that being injured on the job can cause financial hardship for patients, but we do not control the compensation or payroll checks for injured workers. Please contact your adjuster if you have any questions in regards to any financial benefits that may pertain to your claim.
IF MY EMPLOYER DOES NOT HAVE A LIGHT DUTY PROGRAM, CAN I BE SENT BACK TO WORK?
If your employer is either unwilling or unable to accommodate your work restrictions, you will effectively be unable to work. If this happens, please contact your claims adjuster.
The purpose of a work status is to indicate what your physical abilities and limitations are at that time. If your physician does give you work restrictions remember that they apply not just at work but at home as well. If you have questions about your restrictions please feel free to contact a member of your physician's team to discuss or possibly modify your current work restrictions.
WORKERS' COMPENSATION COORDINATOR
If you have any questions, or we can be of additional service, please feel free to contact (402) 390-4111 for all your work comp care needs.
Information for Workers' Compensation Adjuster/Attorney/Case Managers
To request a second opinion from one of our providers please adhere to the following request guidelines:
Please provide clear and legible copies of all medical records pertaining to the specific injury in question to date. Please do not include claims notes, bills, or other non-medical documentation. Physical therapy notes (if included) should be grouped together separately from the primary medical records.
A cover letter or page should also be included with the request. This should include the name of the patient, their claim information, and a brief explanation or reason for the second opinion being sought.
Independent Medical Exams (IME)
Select providers at MD West ONE do provide IME services. Physician review is required prior to acceptance. For more information, please contact our Med Legal Department at (402) 390-4111 and select the option for "Medical Records."