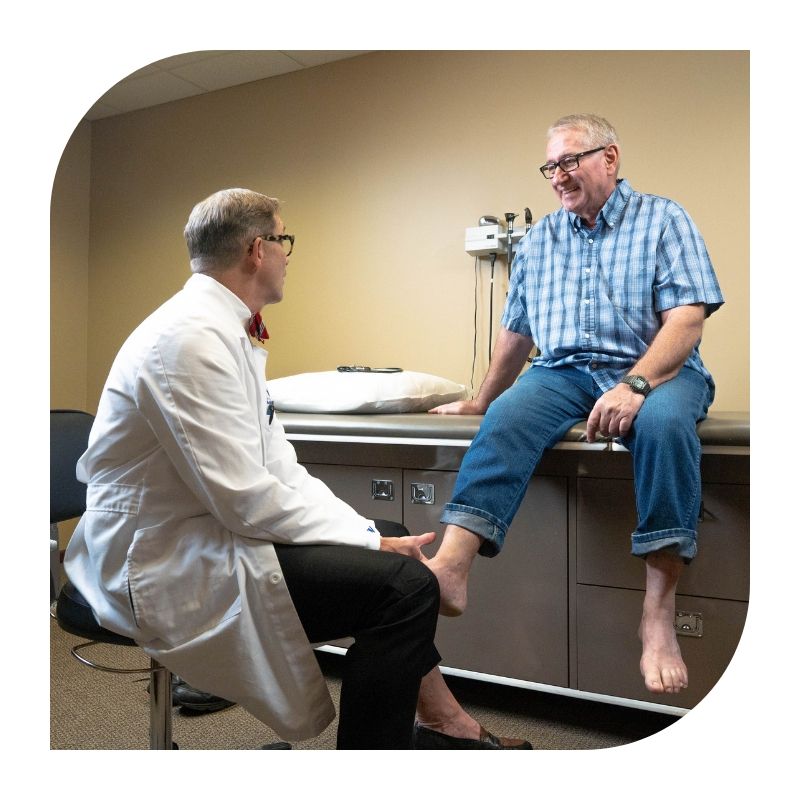 Foot Surgery and Ankle Surgery at MD West ONE
Whether you're injured at work, home, or at an athletic event, or just have been experiencing increasing discomfort, foot pain or ankle pain can hinder your mobility — and life. At MD West ONE, our foot surgeons and ankle surgeons are highly experienced at getting you back on your feet.
When you come to MD West ONE, you will see a foot and ankle specialist who is ready to undertake even the most complex problems. Unlike a generalist, podiatrist, or other foot and ankle care providers, our orthopedic foot and ankle specialists intensely focus on the foot and ankle – based on a framework of general orthopedic knowledge to provide the best understanding of how all the parts of the body work together to keep you moving. And for you, that means the pinnacle of foot and ankle care.
FREQUENTLY TREATED FOOT & ANKLE PROBLEMS AND CONDITIONS:
Achilles Tendon Injuries
Ankle Instability
Ankle Sprains
Arthritis of the Ankle
Arthritis of the Foot
Bunions
Claw Toe
Clubfoot
Diabetic Foot
Flat Foot
Foot & Ankle Stress Fractures
Foot Tingling
Fractures and Trauma
Gout
Haglund's Deformity
Hammer Toe
Heel Bone Fracture
Heel Pain
Jones Fractures
Midfoot (LisFranc) Fracture
Mortons Neuromas
Peroneal Tendon Tears
Plantar Fasciitis
Sports-related Injuries
Stiff Big Toe
Structural Deformities
Tendon Injuries
FOOT & ANKLE TREATMENTS & PROCEDURES:
Some foot and ankle problems will require surgery, some will not. Whatever the case, our foot and ankle specialists will work with you to find the best treatment for you. We offer both surgical and non-surgical treatments, including:
Achilles Tendon Lengthening
Ankle Fracture Surgery
Ankle Fusion
Ankle Replacements
Arthroscopic Ankle Cartilage Repair
Arthroscopy
Bone Spur Removal
Bunion and forefoot/lesser toe deformity surgery
Bunion Surgery / Bunionectomy
Debridement of the Achilles Tendon
Endoscopic Plantar Fascia Release
Joint Arthrodesis
Ligament Reconstruction
Midfoot Fusion
Removal of Mortons Neuromas
Resection of Haglund's Deformity
Surgery for Achilles Tendon Rupture
Tendon Reconstruction and Repair