Are you suffering from symptoms of Basal Joint Arthritis? 
The Omaha Hand & Wrist Specialists at MD West ONE can properly diagnose and treat Basal Joint Arthritis through surgical and non-surgical treatments. If you have the following symptoms, you may want to make an appointment with one of our Board Certified Specialists
Dull aching pain at the base of the thumb
Pain can increase with activity and feels better with rest
Swelling and tenderness at the base of the thumb
Loss of strength in gripping or pinching items
Loss of range of motion in the affected hand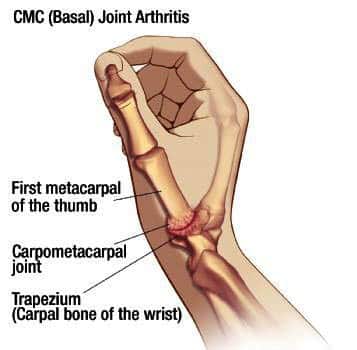 Meet MD West ONE's hand specialists and learn more about how they treat Basal Joint Arthritis.
Basal Joint Arthritis, Treatment(s), Surgical Alternatives, and Surgery
What is Basal Joint Arthritis?
Basal (carpometacarpal) joint arthritis is a very common arthritic condition usually associated with Osteoarthritis. Still, it can also occur with other types of arthritis. You may be asking what is Osteoarthritis? Osteoarthritis is the loss of the gliding surfaces (cartilage) associate with degenerative arthritic osteophytes. This arthritic process is three times as common in women and is found in both hands in 80% of the patients. Osteoarthritis is a condition that usually develops over time, with symptoms typically appearing between the ages of 50 and 60. 
Are there any non-surgical treatments?
Braces: These come in various options, from soft compressive wraps to more rigid, molded braces. These are useful for management of symptoms, primarily to relieve pain. They can be worn at the patient's convenience and are often used in demanding tasks or specific situations. As a rule, the soft wrap is more malleable and easier to use. The more rigid brace helps with stabilization for heavy work activities. 
Medications: The most common medications are anti-inflammatory medications. These can range from over-the-counter medications such as Advil or Aleve to the prescriptions/medicines often used and called non-steroidal anti-inflammatory drugs. Names that may be familiar include Naprosyn, Ibuprofen, Sulindac, Meloxicam as well as many others. These medicines are generally safe. Their side effects, however, can be significant and need to be monitored. Specifically, to minimize GI side effects like nausea, they should be taken with food. They are excreted from the body through the kidneys, so it is crucial to maintain good hydration. Periodic blood tests should be used to assess kidney function. These blood tests can be coordinated with your regular primary care physician. 
Supplements: There are a wide variety of supplements used for Osteoarthritis. Our practice has seen some benefits, especially in the hand with Turmeric and Glucosamine, Chondroitin, and MSM. Alternative supplements can also be helpful. To date, there is not scientific consensus these supplements can significantly alleviate symptoms. However, based on our clinical experience anecdotal studies, significant improvements have been seen with supplements of multiple types. In general, it is reasonable for our patients to try these with the understanding that they may or may not be helpful. The continuation of supplement use will be dependent upon improvement seen by each patient. Supplements may be taken in combination with other medications such as non-steroidal medications as there is no negative side effect crossover. 
Injections: To date, the only acceptable injections are cortisone-type injections. Cortisone is often used in arthritis in multiple joints. It has a useful function in degenerative arthritis at the base of the thumb. In general, we will repeat these injections with trying to space them out to be three months and hopefully six months apart. These can be done over a period of years as long as there is a substantial improvement with the injection. 
Exercises: In general, there is no exercise regimen relative to CMC (carpometacarpal) arthritis. Doing isometric stretching and just daily home exercises can be helpful. Indeed it may be beneficial to keep the thumb in a normal position with home stretches. Physical therapy is usually not prescribed.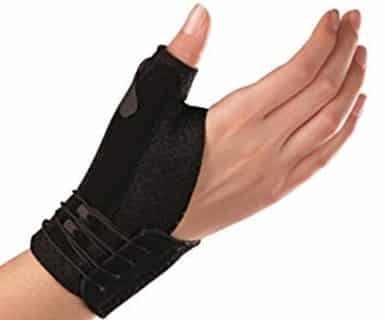 What if the non-surgical options do not work for me?
There are multiple alternative surgical procedures available for arthritis of the basal joint of the thumb. These have evolved over the last several years, and surgeons have their preferences depending on their experience and training. The surgeries have several factors that are used in our practice as well as other groups of hand surgeons. There are several concepts that are common relative to surgery for basal joint disease. 
Bony resection: In general, most procedures today involve the resection or removal of the trapezium, which is the wrist bone that sits directly under the thumb. Multiple studies have shown this can be removed without compromise to the wrist joint itself. 
Interposition material: Multiple types of interposition material have been used after the trapezium is removed. Currently, a standard amongst hand surgeons is the utilization of a tendon graft. There are multiple potential donor tendons, the most common being from the palmar aspect of the distal forearm. This uses a segment or the entire FCR (flexor carpi radialis) tendon. The tendon can be harvested without significantly compromising wrist or hand function. 
Augmentation: There is a difference of opinions concerning the use of augmentation devices with surgery. Historically most hand surgeons would pin the first metacarpal (hand bone) to the second metacarpal for six weeks to heal from the surgical procedure. This had potential side effects and significant restrictions, including casting. Although this is still done periodically, it is not done as commonly anymore. 
Ligament augmentation devices are currently available and have a variable acceptance amongst hand surgeons. 
Stabilizing the joint beyond the basal joint called the metacarpophalangeal (finger or MCP) joint in some patients. This may be essential secondary to severe arthritis and/or to instability in the MCP joint. The surgery for this is very patient-specific and will need to be discussed on an individual basis. This surgery will sometimes necessitate prolonged casting, pin placement, and/or additional procedures. The decision will be made with you as a patient as surgical options and treatment plans are discussed.
AMERICAN SOCIETY FOR SURGERY OF THE HAND
All of the hand surgeons in the practice are recognized members of the American Society for Surgery of the Hand. It is the oldest and most prestigious medical society dedicated to the hand and upper extremity. The mission of the society is to advance science and practice of hand and upper extremity surgery through education, research, and advocacy on behalf of patients and practitioners. These physicians dedicate their time and energy to improving the patient experience and their knowledge in their field. For more information, visit the American Society for Surgery of the Hand website.