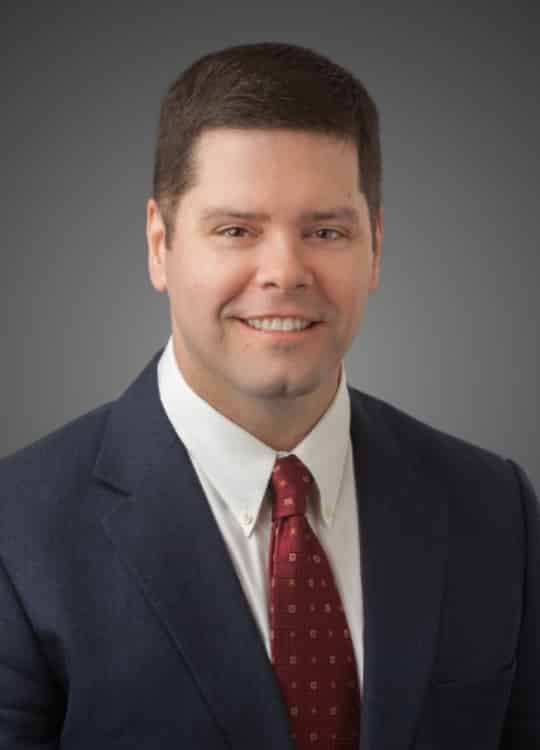 David C. Buck, MD - Orthopedic Surgeon: Sports Medicine
Dr. Buck's focus includes the treatment of sports injuries in all athletes, including youth, high school, collegiate, and weekend warriors. He specializes in knee and shoulder surgery as part of his sports medicine practice. This includes ACL reconstruction using the quadriceps tendon graft, minimally invasive arthroscopy of the knee, shoulder, and ankle, and the use of orthobiologics including platelet-rich plasma for the treatment of sports-related injuries.
In addition to sports medicine, Dr. Buck provides general orthopedics making him a well-rounded orthopedic physician for your entire family. He is proficient in the use of the Sonosite ultrasound for guided injections into joints and soft tissues, and he performs knee replacements using the Zimmer Gender-Specific implant system. 
Dr. Buck completed medical school at the University of Washington School of Medicine and was a Certified Athletic Trainer providing on-field sports medicine care to injured athletes prior to medical school. He completed an Orthopedic Surgery residency at the University of Nebraska Medical Center in Omaha. He has an added subspecialty certificate in orthopedic sports medicine and has served as the team physician for local high schools and colleges. Dr. Buck is currently the team physician for Midland University. 
Outside of work, Dr. Buck and his wife live in Elkhorn and raise two boys that love to play sports and enjoy the fine arts. They are active in their church and the Elkhorn Community. His hobbies include photography, hunting and fishing, coaching his sons' sports teams, and martial arts training.
Education:
Residency: Creighton/University of Nebraska Health Foundation, Omaha, NE
Medical School: University of Washington, Seattle, WA
Undergraduate: Western Washington University, Bellingham, WA
Professional Memberships & Certifications:
American Board of Orthopaedic Surgery
Board Certified with Subspecialty Certificate in Orthopaedic Sports Medicine
American Academy of Orthopaedic Surgeons
American Orthopaedic Society for Sports Medicine
Nebraska Medical Society
Metro Omaha Medical Society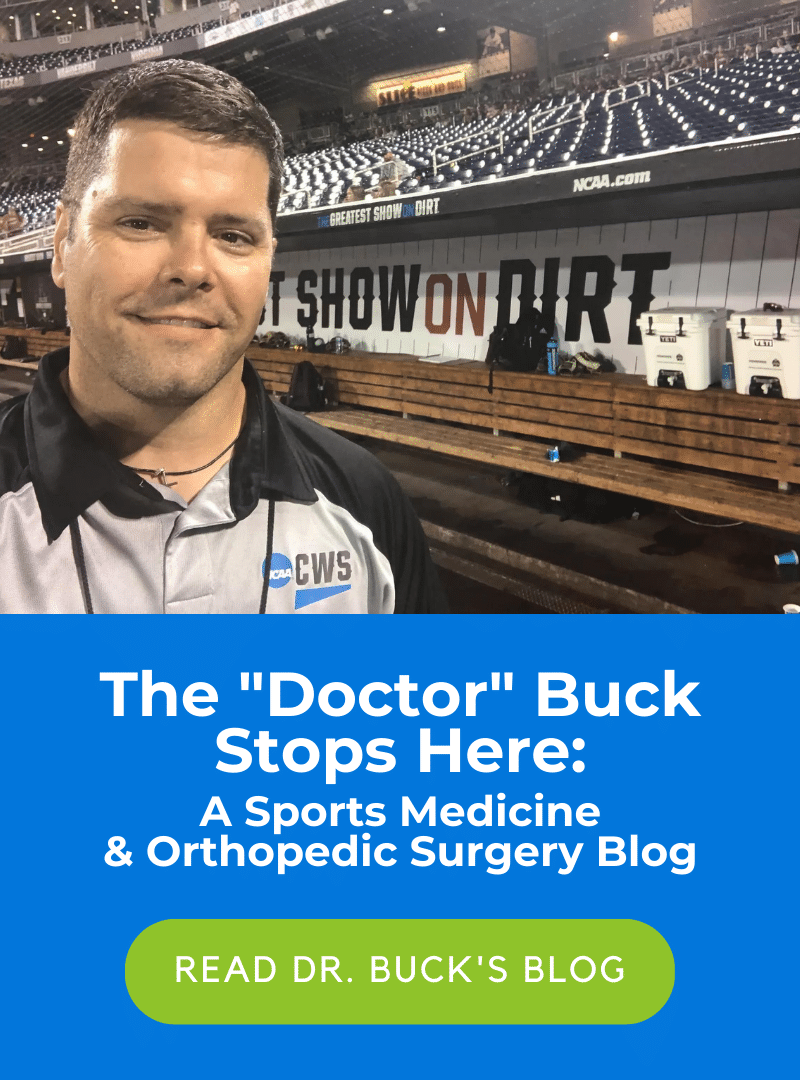 FREQUENTLY TREATED SPORT INJURIES AND CONDITIONS:
Achilles Tendon Injuries
ACL Injuries
Ankle Injuries
Arthritis of the Knee
Biceps Tendon Pathology (Tear vs. Tendonitis)
Fractures and Dislocations in Adults
Fractures in Children
Elbow Tendonitis of Biceps and Triceps
Golfer's Elbow
Knee Ligament Injuries
Knee Meniscus Injuries
Knee Overuse Injuries
Knee Tendonitis
Runner's Knee
Shoulder Biceps Pathology
Shoulder Bursitis
Shoulder Dislocation
Shoulder Impingement Syndrome
Shoulder Injuries
Shoulder Instability
Shoulder Labral Tears
Shoulder Rotator Cuff Injuries and Tears
Shoulder Separation
Shoulder SLAP Lesions
Sports Medicine Injuries (Acute and Overuse Syndromes)
Sprains and Strains
Tennis Elbow
Throwing Injuries
Torn Ligaments and Tendons
Workmen's Compensation Injuries (Non-Spine)
SPORT INJURY TREATMENTS & PROCEDURES:
Some sports injuries will require surgery, some will not. Whatever the case, Dr. Buck will work with you to find the best treatment for you. He offers both surgical and non-surgical treatments, including:
Arthroscopy (Shoulder, Elbow, Knee, Ankle)
ACL Reconstruction using Quadriceps Tendon Graft
Carpal Tunnel Surgery
Knee Cartilage Repair and Restoration
Knee Ligament and Meniscus Surgery
Knee Replacement (Total Knee Arthroplasty)
Elbow Ligament and Tendon Surgery
Ligament Reconstruction
Tendon Repair
Shoulder Arthroscopy with Labral and Rotator Cuff Repair
Non-Operative Care
Injections (Corticosteroid, Viscosupplementation, Orthobiologics)
Routine Fracture Care (Adult and Pediatric)
Physical Therapy
Sports Bracing
Orthobiologics including Platelet Rich Plasma Injections
See what patients have to say about Dr. Buck...