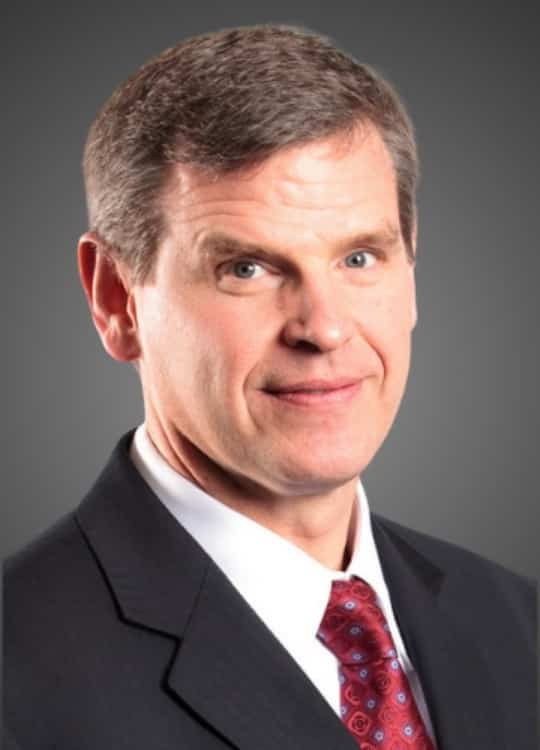 George J. Emodi, MD - Orthopedic Surgeon: Total Joint
Growing up, there was never a doubt in Dr. George Emodi's mind that he would be a medical professional. He was always fascinated by the human body. He also loved interacting with people, so he could think of no better way to combine his two loves than to one day become a physician. His certainty was further solidified after he spent time as a phlebotomist at Methodist Hospital's Pathology Center.
Dr. Emodi went on to attend medical school the University of Nebraska Medical Center. After gaining an interest in the functions of the human musculoskeletal system, he decided to specialize in orthopedics. He later completed his residency at the University of Iowa. Dr. Emodi is now an orthopedic surgeon at MD West ONE.
Dr. Emodi is dedicated to providing quality care to people. His mission is to educate patients about their conditions. He also believes it is important for patients to have an active role in their care, and outlines how they can minimize symptoms or cure a disease by working together.
In his free time, Dr. Emodi enjoys spending time with his family. He also loves being active—although he loves his job, there are times he needs to step outside of the clinic and just go for a bike ride while enjoying the great outdoors.
Education:
Residency: University of Iowa Hospitals and Clinics. Iowa, City
Medical School: University of Nebraska Medica Center, Omaha, NE
Undergraduate: University of Nebraska, Omaha, NE
Professional Memberships & Certifications:
American Board of Orthopaedic Surgery
Americal Academy of Orthopedic Surgeons
Mid-Central States Orthopedic Society
Omaha Orthopedic Society
Metro Omaha Medical Society
FREQUENTLY TREATED ORTHOPEDIC INJURIES AND CONDITIONS:
Achilles Tendon Injuries
Ankle Instability
Ankle Sprains
Bunions
Foot & Ankle Stress Fractures
Fractures and Trauma
Broken Toe or Metatarsal
Haglund's Deformity
Hammer Toe
Stiff Big Toe
Foot & Ankle Tendon Injuries
Femoral Fractures
Hip Arthritis 
Hip Bursitis
Hip Dislocation
Hip Fractures
Hip Muscle Strains
Runner's Knee (Patellofemoral Pain Syndrome)
Knee Arthritis
Knee Bursitis
Meniscus Tears
Osteochondritis Desscans of the Knee
Broken Knee Cap
Patella Tendon Rupture
Quadriceps Tendon Rupture
Shin Splints
Snapping Hip Syndrome
Thigh Muscle Strains
Tibial Fractures
Torn Anterior Cruciate Ligament (ACL)
Basal Joint Arthritis 
Boxer's Fracture
Carpal Tunnel
Colles' Fracture
De Quervain's Tenosynovitis
Finger Dislocations
Finger Fracture
Finger Amputations
Mallet Finger
Tennis Elbow
Wrist Fractures
Wrist Pain
Wrist Sprains & Strains
Wrist Tendonitis
Acromioclavicular Injuries
Arthritis of the Shoulder
Biceps Tendon Rupture
Biceps Tendonitis
Broken Shoulder
Collarbone Fracture
Cubital Tunnel Syndrome
Elbow Bursitis
Elbow Tendon Inflammations
Frozen Shoulder
Golfer's Elbow
Loose Shoulder (Instability)
Rotator Cuff Injury
Rotator Cuff Tear
Shoulder Blade Fracture
Shoulder Bursitis
Shoulder Dislocation
Shoulder Impingement Syndrome
Shoulder Separation
Shoulder Socket Fracture
SLAP Tear
Snapping Shoulder Syndrome
Tennis Elbow
Triceps Tendonitis
SPORT INJURY TREATMENTS & PROCEDURES:
Some orthopedic injuries will require surgery, some will not. Whatever the case, Dr. Emodi will work with you to find the best treatment for you. He offers both surgical and non-surgical treatments, including:
Achilles Tendon Lengthening
Ankle Fracture Surgery
Bone Spur Removal
Bunion and Forefoot/Lesser Toe Deformity Surgery
Bunion Surgery (Bunionectomy)
Resection of Haglund's Deformity
Surgery for Achilles Tendon Rupture
ACL Reconstruction
Cartilage Repair
Femur Fracture Fixation
Hip Fracture Treatment
Hip Resurfacing Surgery
Hip Revision Surgery
Injections
Knee Arthroscopy
Knee Revision Surgery
Loose Body Removal
Meniscus Repair
Mini-Incision Total Hip Replacement
Mini-Incision Total Knee Replacement
Minimally Invasive Joint Surgery
Partial Hip Resurfacing
Partial Knee Replacement
Partial Meniscectomy
Total Hip Replacement
Total Hip Resurfacing
Total Knee Replacement
Uni-Knee Resurfacing 
Cyst Removal
De Quervain's Release
Trigger Finger
Fracture & Dislocation of Hand Treatment
Nerve Repair
Hand & Wrist Tendon Repair 
Finger Amputations
Acromioclavicular Reconstructions
Arthroscopic Bankart Repair
Arthroscopic Capsular Release
Cubital Tunnel Release at the Elbow
Medical Epicondylectomy
Medial Ulnar Collarteral Ligament
Broken Shoulder Surgery
Reverse Total Shoulder Replacement
Rotator Cuff Repair
Shoulder Arthroplasty
Shoulder Impingement Surgery
SLAP Repair
Total Shoulder Replacement
Ulnar Nerve Transposition at the Elbow
Non-surgical treatments such as splints, casts, exercise, and strength-building programs, pain management, and rehabilitative therapy
Let's see what patients have to say about Dr. Emodi...