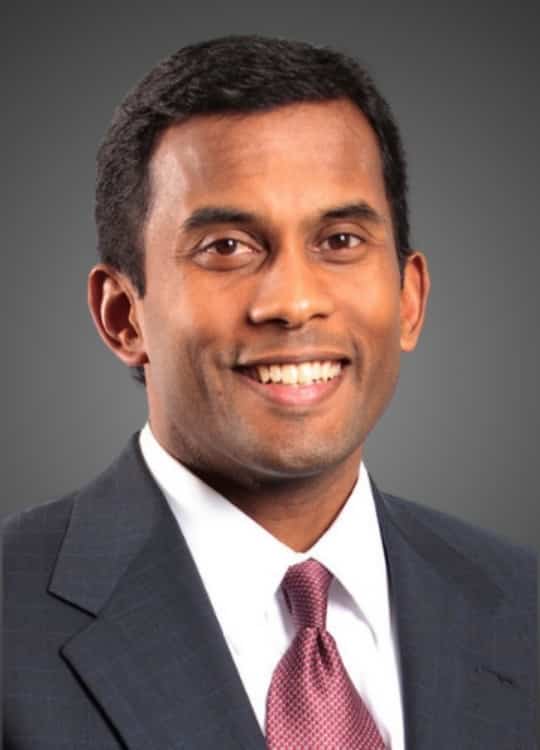 Ajoy Jana, MD - Total Joint Replacement Specialist
Dr. Ajoy Jana grew up having a doctor in his immediate family, so it was only natural he would be inspired to one day become the same. His father was a general surgeon, and his influence, coupled with Dr. Jana's desire to make an impact in people's lives, led to Dr. Jana wanting to be a surgeon from very early in his life.
Dr. Jana attended medical school at Case Western Reserve University in Cleveland, Ohio. During his studies, he witnessed the life-changing treatments involved in orthopedics. Selecting it as his specialty, Dr. Jana completed his orthopedics residency at Akron General Medical Center, followed by a fellowship at Anderson Orthopedic Clinic in Virginia.
Today, he is an orthopedic surgeon at MD West ONE. Dr. Jana is dedicated to improving people's quality of life and strives to be by their side through every step of their treatment. He believes educating patients about different treatment options is essential, and he builds confidence in them to make smart decisions regarding their care. In his free time, Dr. Jana is an avid sports fanatic. Having grown up in the Eastern United States, he loves rooting for his favorite teams, including the Pittsburgh Steelers and the Duke Blue Devils.
EDUCATION:
Fellowship: Anderson Orthopedic Clinic, Alexandria, VA
Residency: Akron General Medical Center, Akron, OH
Medical School: Case Western Reserve School of Medicine, Cleveland, OH
Undergraduate: Duke University, Durham, NC
PROFESSIONAL CERTIFICATIONS:
American Board of Orthopaedic Surgery
FREQUENTLY TREATED HIP AND KNEE PROBLEMS AND CONDITIONS:
Femoral Fractures
Hip Arthritis
Hip Bursitis
Hip Dislocation
Hip Fractures
Hip Muscle Strains
Knee Arthritis
Knee Bursitis
Meniscus Tears
HIP AND KNEE TREATMENTS & PROCEDURES:
Some hip and knee problems will require surgery, some will not. Whatever the case, Dr. Jana will work with you to find the best treatment for you. He offers both surgical and non-surgical treatments, including:
Femur Fracture Fixation
Hip Fracture Treatment
Hip Revision Surgery
Injections
Minimally Invasive Joint Surgery
Partial Hip Resurfacing
Partial Knee Replacement
Total Hip Replacement
Total Hip Resurfacing
Total Knee Replacement
Uni-Knee Resurfacing
See what patients have to say about Dr. Jana...