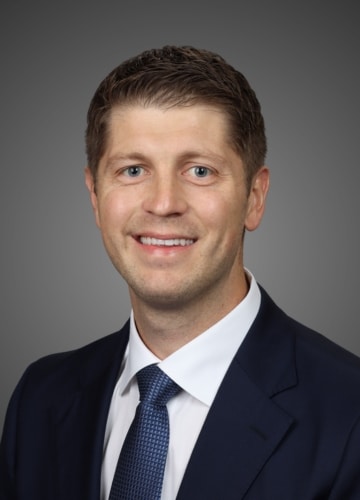 Justin Makovicka, MD/MBA
Orthopedic Surgeon
Comprehensive Knee & Shoulder Specialist
Dr. Justin Makovicka is one of a handful of double fellowship-trained orthopedic surgeons in the country specializing in both sports medicine and reconstructive surgery of the knee and shoulder. Dr. Makovicka is a Nebraska native growing up on a farm where he learned first-hand the attributes that set people in this state apart- toughness, resilience and determination. This skillset helped him to become a collegiate student-athlete graduating from the University of Nebraska-Lincoln, where he played fullback for the Cornhusker football team. Dr. Makovicka completed Medical School at the University of Nebraska Medical Center. During this time, he simultaneously earned his MBA from the University of Nebraska- Omaha, becoming the first student to complete the combined MD/MBA program with the goal of being an advocate in the changing landscape of medicine.
Dr. Makovicka had the opportunity to train with world renowned orthopedic surgeons at the prestigious Mayo Clinic, the U.S. News & World Report #1 hospital in the nation. He completed his Orthopedic Surgery residency at Mayo Clinic in Phoenix, AZ, where he received extensive training in a wide breadth of knee and shoulder pathology. Following residency, he decided to complete two fellowships in complimentary subspecialties allowing him to become one of a few specialists able to provide comprehensive knee and shoulder care across a wide spectrum of patient pathologies and ages. 
He completed both fellowships at Mayo Clinic, first in Adult Reconstruction followed by a second fellowship in Sports Medicine, where he also served as a team physician for Arizona State University and the NHL's Arizona Coyotes. During his time as a fellow, he was awarded the Tom Fitch Outstanding Clinician Award, given to the top fellow throughout Mayo Clinic. A surgeon-scientist, Dr. Makovicka is dedicated to research and advancing the field of orthopedics. He has authored over 70 peer-reviewed articles in major orthopedic journals and has written several book chapters on orthopedic surgical care. His research has been presented both nationally and internationally and he was appointed as an Instructor in Orthopedics in the Mayo Clinic College of Medicine and Science.
Dr. Makovicka joined MD West ONE in 2023. His clinical area of interest and expertise is in the comprehensive care of the knee and shoulder. Due to extensive training, he specializes in all aspects of knee and shoulder pathology in a wide range of age groups. This includes complex disorders such as multi-ligamentous knee and cartilage injuries. He also has training in the latest techniques including minimally-invasive and robotic-assisted total joint replacement. Importantly, he treats every patient as if they were a family member with the single goal of helping patients get back into the game of life.
Education:
Fellowship: Mayo Clinic School of Graduate Medical Education, Sports Medicine Fellowship
Fellowship: Mayo Clinic School of Graduate Medical Education, Adult Reconstruction Fellowship
Residency: Mayo Clinic School of Graduate Medical Education
Medical School: University of Nebraska Medical Center College of Medicine
Graduate: University of Nebraska-Omaha, MBA
Undergraduate: University of Nebraska-Lincoln, BS
Professional Memberships & Certifications:
American Academy of Orthopaedic Surgeons
American Association of Hip and Knee Surgeons
Arthroscopy Association of North America
American Orthopaedic Society for Sports Medicine
Frequently Treated Conditions:
Shoulder:
Shoulder Pain
Shoulder (AC Joint) Separations
Biceps Tendon Injuries
Frozen Shoulder
Rotator Cuff Tears
Labral & SLAP Tears
Shoulder Instability & Dislocations
Sprains and Strains
Overuse Injuries
Tendonitis
Bursitis
Impingement
Shoulder Arthritis
Knee:
Knee Pain
ACL and Other Knee Ligament Injuries
Meniscus Tears
Knee Cartilage Injuries/Defects/OCD Lesions
Patellar (Kneecap) Dislocation
Patellofemoral Syndrome
Quad and Patella Tendon Tears
Osgood-Schlatter Disease
Sprains and Strains
Overuse Injuries
Tendonitis
Bursitis
Impingement
Knee Arthritis
Treatments & Procedures:
Some conditions will require surgery, some will not. Whatever the case, Dr. Makovicka will work with you to find the best treatment for you. He offers both surgical and non-surgical treatments, including:
Shoulder Treatments & Procedures:
Non-Operative Treatments: Custom Bracing, Physical therapy, Injections, etc.
PRP (Platelet-Rich Plasma) Injections
Shoulder Scope
AC Reconstructions
Biceps Tendon Surgery/Tenodesis
Capsular Release
Rotator Cuff Repair
Labral/SLAP Repair
Shoulder Instability Surgery/Stabilization
Reverse Total Shoulder Replacement
Total Shoulder Replacement
Knee:
Non-Operative Treatments: Custom Bracing, Physical therapy, Injections, etc.
PRP (Platelet-Rich Plasma) Injections
Knee Scope
ACL and Other Knee Ligament Repair/Reconstruction
Meniscus Repair/Meniscectomy
Cartilage Repair/ Restoration
Patella (Kneecap) Instability Surgery/Stabilization
Tendon Repairs (Quad/Patella Tendon)
Osteotomies
Patellofemoral Knee Replacement
Partial (Uni) Knee Replacement
Rapid Recovery Program for Joint Replacement