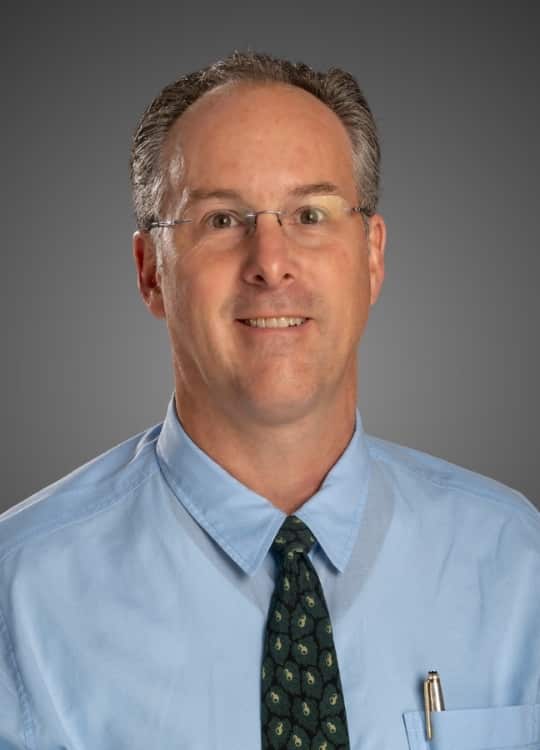 Dr. James "Jim" Mantone - Orthopedic Surgeon: Sports, Hip, Knee, & Shoulder
We welcome Dr. James Mantone to MD West ONE from Aberdeen, South Dakota. Dr. Mantone has been in practice for more than 20 years and is a board-certified, fellowship-trained orthopedic surgeon with extensive experience in treating the shoulder, upper extremity, and lower extremities. Dr. Mantone graduated from Medical School at the University of Buffalo and completed his residency at Wayne State University in Detroit, Michigan. 
EDUCATION:
Fellowship: Baylor University Medica Center, Dallas, TX
Fellowship: Emory University School of Medicine, Atlanta, GA
Residency: Wayne State University: Detroit Medical Center, Detroit, MI
Internship: Grace Hospital, Detroit, MI
Medical School: State University of New York: School of Medicine and Biomedical Sciences, Buffalo, NY
Undergraduate: State University of New York, Binghamton, NY
PROFESSIONAL CERTIFICATIONS:
American Board of Orthopaedic Surgery
FREQUENTLY TREATED SPORTS AND ORTHOPEDIC INJURIES AND CONDITIONS:
Achilles Tendon Injuries 
ACL Injuries 
Ankle Injuries 
Fractures and Dislocations 
Golfer's Elbow 
Knee Injuries 
Labral Tears 
Rotator Cuff Injuries 
Runner's Knee 
Shoulder Injuries 
Shoulder Instability 
Slap Lesion 
Sprains and Strains 
Tennis Elbow 
Torn Ligaments and Tendons 
Acromioclavicular Injuries 
Arthritis of the Elbow 
Arthritis of the Shoulder 
Biceps Tendon Rupture 
Biceps Tendonitis 
Broken Shoulder 
Burners & Stingers 
Collarbone Fracture 
Cubital Tunnel Syndrome 
Elbow Bursitis
Elbow Growth Plate Injuries 
Elbow Tendon Inflammation 
Frozen Shoulder 
Golfer's Elbow 
Hill-Sachs Lesion 
Hyperextension of the Elbow 
Joint Stiffness 
Loose Shoulder (Instability) 
Osteochondritis Dissecans of the Elbow 
Overuse Injuries 
Radial Tunnel Syndrome 
Rotator Cuff Injury 
Rotator Cuff Tear 
Shoulder Blade Fracture 
Shoulder Bursitis 
Shoulder Dislocation 
Shoulder Impingement Syndrome 
Shoulder Separation 
Shoulder Socket Fracture 
SLAP Tear 
Snapping Shoulder Syndrome 
Tennis Elbow 
Throwing Injuries 
Triceps Tendonitis 
SPORTS AND ORTHOPEDIC INJURY TREATMENTS & PROCEDURES:
Some sports and orthopedic problems will require surgery, some will not. Whatever the case, Dr. Mantone will work with you to find the best treatment for you. He offers both surgical and non-surgical treatments, including:
Arthroscopy (Shoulder, Elbow, Knee) 
ACL Reconstruction 
Cartilage Repair 
Ligament Reconstruction 
Tendon Repair 
Shoulder Labral and Rotator Cuff Repair 
Non-Operative Care 
Injections 
Physical Therapy 
Sports Bracing
Acromioclavicular Reconstructions 
Arthroscopic Bankart Repair 
Arthroscopic Capsular Plication 
Arthroscopic Capsular Release 
Arthroscopic Debridement of the Elbow 
Biceps Tendonitis 
Cubital Tunnel Release at the Elbow 
Elbow Replacement 
Fracture Treatment 
Ligament Reconstruction 
Medial Epicondylectomy 
Medial Ulnar Collateral Ligament Reconstruction (Tommy John Surgery) 
Broken Shoulder Surgery 
Radial Tunnel Release at the Elbow 
Reverse Total Shoulder Replacement 
Rotator Cuff Repair 
Shoulder Arthroplasty 
Shoulder Impingement Surgery 
Shoulder Resurfacing 
SLAP Repair 
Total Shoulder Replacement 
Ulnar Nerve Transposition at the Elbow 
See what patients have to say about Dr. Mantone...