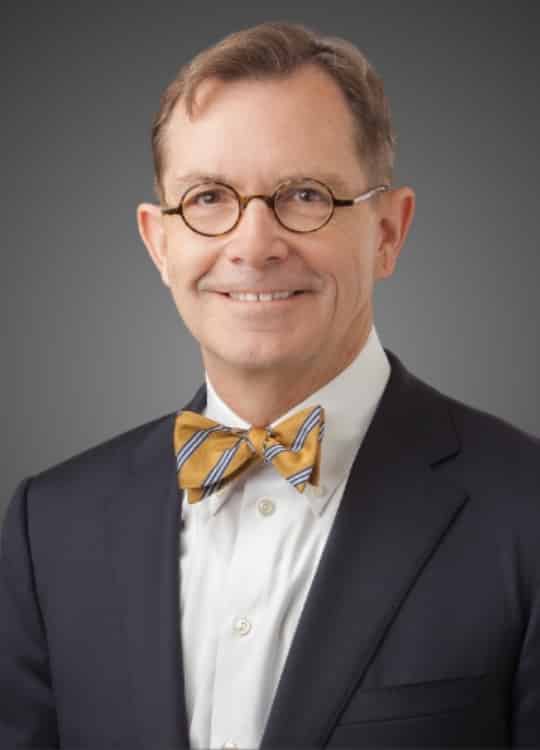 Scott T. McMullen, MD - Orthopedic Surgeon: Foot & Ankle
Dr. McMullen completed his foot and ankle fellowship at the Mayo Clinic in Scottsdale, Arizona. He enjoys working with problems ranging from adolescent athletic injuries to longstanding degenerative conditions of the foot and ankle. Dr. McMullen will take the time to help you understand your condition and decide upon an individualized treatment plan. Along with Drs. Inda, Grier, Schutt, and Wegner; Dr. McMullen is a foot and ankle instructor for orthopedic residents.
Dr. McMullen is a Midwest Native from eastern Iowa and has resided in Omaha since 1989. He enjoys spending time with his wife, three sons, attending his sons' activities, and golfing. He also takes pride in his yard and does yard work for enjoyment.
"I saw Dr. McMullen for a right foot problem. From the very first person I spoke to as I entered the facility, I was treated so very nicely by every single person. I just wanted to know that it matters a great deal to me as I was having a very difficult day. So THANKS!."
EDUCATION:
Fellowship: Foot & Ankle Surgery, Mayo Clinic Scottsdale, Scottsdale, AZ
Residency: Orthopaedic Surgery, Creighton-Nebraska Health Foundation, Omaha, NE
Medical School: The University of Iowa College of Medicine, Iowa City, IA
Undergraduate: The University of Iowa College of Liberal Arts, Iowa City, IA
Professional Memberships & Certifications:
American Medical Association
Fellow American Academy of Orthopaedic Surgeons
American Orthopaedic Foot & Ankle Society
Nebraska Association of Orthopaedic Surgeons
Nebraska Medical Society
Omaha-Douglas County Medical Society
Mayo Alumni Association
FREQUENTLY TREATED FOOT & ANKLE PROBLEMS AND CONDITIONS:
Achilles Tendon Injuries 
Ankle Instability 
Ankle Sprains 
Arthritis of the Ankle 
Arthritis of the Foot 
Bunions 
Claw Toe 
Clubfoot 
Diabetic Foot 
Flat Foot 
Foot & Ankle Stress Fractures 
Foot Tingling 
Fractures and Trauma
Broken Toe or Metatarsal
Gout 
Haglund's Deformity 
Hammer Toe 
Heel Bone Fracture 
Heel Pain 
Jones Fractures 
Midfoot (LisFranc) Fracture 
Mortons Neuromas 
Peroneal Tendon Tears 
Plantar Fasciitis 
Sports-related Injuries 
Stiff Big Toe 
Structural Deformities 
Tendon Injuries 
FOOT & ANKLE TREATMENTS & PROCEDURES:
Some foot and ankle injuries will require surgery, some will not. Whatever the case, Dr. McMullen will work with you to find the best treatment for you. He offers both surgical and non-surgical treatments, including:
Achilles Tendon Lengthening 
Ankle Fracture Surgery 
Ankle Fusion 
Ankle Replacements 
Arthroscopic Ankle Cartilage Repair 
Arthroscopy 
Bone Spur Removal 
Bunion and forefoot/lesser toe deformity surgery 
Bunion Surgery / Bunionectomy 
Debridement of the Achilles Tendon
Endoscopic Plantar Fascia Release 
Joint Arthrodesis 
Ligament Reconstruction 
Midfoot Fusion 
Removal of Mortons Neuromas 
Resection of Haglund's Deformity 
Surgery for Achilles Tendon Rupture 
Tendon Reconstruction and Repair 
See what patients have to say about Dr. McMullen...