T. Kevin O'Malley, MD
Dr. T. Kevin O'Malley is a skilled and compassionate doctor who can help you with any Sports Medicine or Knee related issue. Looking for a highly skilled and approachable physician to solve your Sports Medicine issues? Whether it's ACL repair or a knee replacement, Dr. O'Malley has a high level of expertise and skill and can get you back to enjoying your life once again.
Education:
Undergraduate: Christian Brothers College, Memphis, TN
Medical School: University of Tennessee, Center for Health Science, Memphis, TN
Internship: Creighton University School of Medicine, Omaha, NE
Residency: Creighton University / Nebraska University, Omaha, NE
Fellowship: Sports Medicine, Foundation for Orthopaedic Athletics and Reconstructive Research, Houston, TX
Team Physician:
College World Series
Creighton University Athletics 
Marian High School
Duchesne Academy of Sacred Heart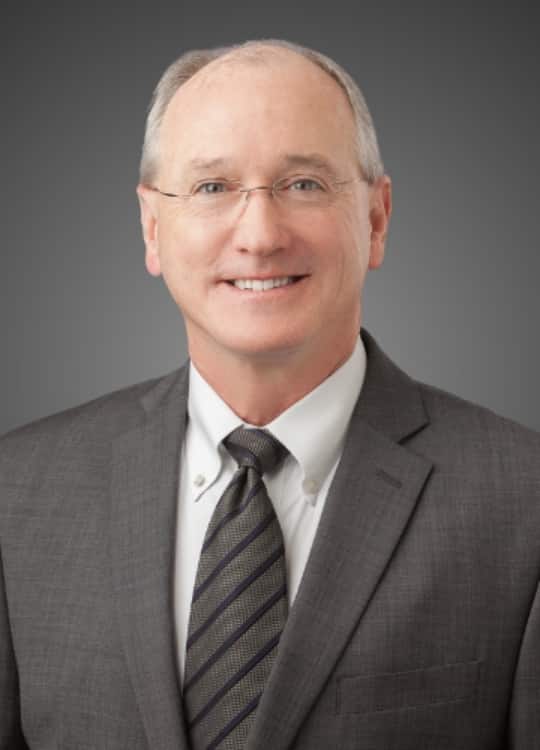 Professional Memberships & Certifications
Certified, American Board of Orthopaedic Surgery
Certified, American Board of Orthopaedic Surgery – Certificate of Added Qualification – Sports Medicine
American Academy of Orthopaedic Surgeons, Fellow
Nebraska Association of Orthopaedic Surgeons, Member

Treasurer – 1992 to present

Mid-American Orthopaedic Association, Member
Metro Omaha Medical Society, Member

Society Affairs Committee – 1991 to present

Irish American Orthopaedic Society, Member
American College of Surgeons, Member
Academic Appointments
Clinical Professor (Special), Orthopaedic Surgery, University of Nebraska Medical Center Clinical Instructor, Orthopaedic Surgery, Creighton University Medical School
Personal Interests:
Dr. O'Malley and his wife have six daughters and one son, so outside of work most of his time is occupied with his childrens' activities. He also spends time with Creighton University athletics attending men's soccer games and women's basketball games as Team Physician.
Presentations:
Current Concept ACL Reconstruction, Alegent Health All About Orthopaedics, Mid America Center, August 2007
The Good News Is, It's Not Your ACL, Focus on Sports Medicine, Alegent Health Orthopaedic Institute, Georgetowne Club, September 16, 2003
Multi-ligament Reconstruction, Omaha Sports Medicine Alliance, Sports Medicine 2003 Summer Symposium, The Champions Club, July 26, 2003.
Identification and Treatment of Meniscal Injuries, All About Orthopaedics, Alegent Health, Bergan Mercy Medical Center, August 17, 2001.
Anterior Knee Pain All About Orthopaedics, Alegent Health, Bergan Mercy Medical Center, August 17, 2001.
ACL Reconstruction Nebraska Athletic Trainers Association, May 20, 2001.
ACL Reconstruction and Rehabilitation,Omaha Physical Therapists Association, June 18, 2000.
Course Chairman, Advanced Concepts in ACL Reconstruction Using a Quadruple Bundled Hamstring Tendon Graft, Department of Orthopaedic Surgery and Rehabilitation, University of Nebraska Medical Center, April 1999
Current Concepts in the Treatment of ACL Injuries of the Knee, AORN of Omaha, November 11, 1998.
Athletic Knee Injuries – Office Evaluation and Treatment, Second Annual Medical Update for Primary Care Physicians, Bergan Mercy Medical Center, March 4, 1994.