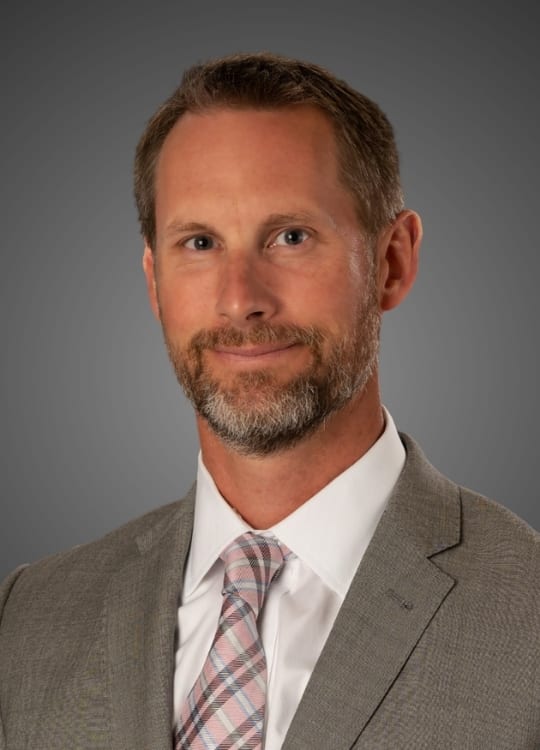 Shane Schutt, MD - Orthopedic Surgeon: Foot & Ankle Specialist
Dr. Shane Schutt's passion for orthopedics can be traced back to when he was a teenager in high school. During that time, he worked for an orthopedic surgeon in his home town. Seeing this surgeon perform procedures that helped people overcome debilitating diseases, deformities, and injuries inspired Dr. Schutt to follow the same path.
Desiring to be like the surgeon from his youth, Dr. Schutt completed medical school at Creighton University School of Medicine and his residency at Kansas University Medical Center. Additionally, he completed his foot and ankle surgery fellowship at the Coughlin Clinic in Boise, Idaho. Today, he is an orthopedic surgeon specializing in foot and ankle surgery at Methodist Physicians Clinic.
When it comes to patient relationships, Dr. Schutt emphasizes good communication between the physician and the patient. He believes that in order to properly diagnose a problem, it is necessary to listen to patients and address any questions or concerns they have. He also believes it is important to build trust, as surgery requires acute precision for a perfect result.
In his free time, Dr. Schutt enjoys being outdoors. He loves playing sports, frequently golfing on nice days. He also owns a 60-acre plot of land and spends his time maintaining it by mowing, cutting trees, feeding chickens and tractor maintenance.
Education:
Fellowship: Saint Alphonsis Regional Medical Center, Boise, ID
Residency: Kansas University Orthopedic Surgery Residency, Kansas City, KS
Medical School: Creighton University School of Medicine, Omaha, NE
Undergraduate: Creighton University, Omaha, NE
Professional Memberships & Certifications:
American Board of Orthopaedic Surgery
American Orthopedic Foot and Ankle Society
American Medical Association
FREQUENTLY TREATED FOOT & ANKLE PROBLEMS AND CONDITIONS:
Achilles Tendon Injuries 
Ankle Instability 
Ankle Sprains 
Arthritis of the Ankle 
Arthritis of the Foot 
Bunions 
Claw Toe 
Clubfoot 
Diabetic Foot 
Flat Foot 
Foot & Ankle Stress Fractures 
Foot Tingling 
Fractures and Trauma
Broken Toe or Metatarsal
Gout 
Haglund's Deformity 
Hammer Toe 
Heel Bone Fracture 
Heel Pain 
Jones Fractures 
Midfoot (LisFranc) Fracture 
Mortons Neuromas 
Peroneal Tendon Tears 
Plantar Fasciitis 
Sports-related Injuries 
Stiff Big Toe 
Structural Deformities 
Tendon Injuries 
FOOT & ANKLE TREATMENTS & PROCEDURES:
Some foot and ankle problems will require surgery, some will not. Whatever the case, Dr. Schutt will work with you to find the best treatment for you. He offers both surgical and non-surgical treatments, including:
Achilles Tendon Lengthening 
Ankle Fracture Surgery 
Ankle Fusion 
Ankle Replacements 
Arthroscopic Ankle Cartilage Repair 
Arthroscopy 
Bone Spur Removal 
Bunion and forefoot/lesser toe deformity surgery 
Bunion Surgery / Bunionectomy 
Debridement of the Achilles Tendon
Endoscopic Plantar Fascia Release 
Joint Arthrodesis 
Ligament Reconstruction 
Midfoot Fusion 
Removal of Mortons Neuromas 
Resection of Haglund's Deformity 
Surgery for Achilles Tendon Rupture 
Tendon Reconstruction and Repair 
See what patients have to say about Dr. Schutt...