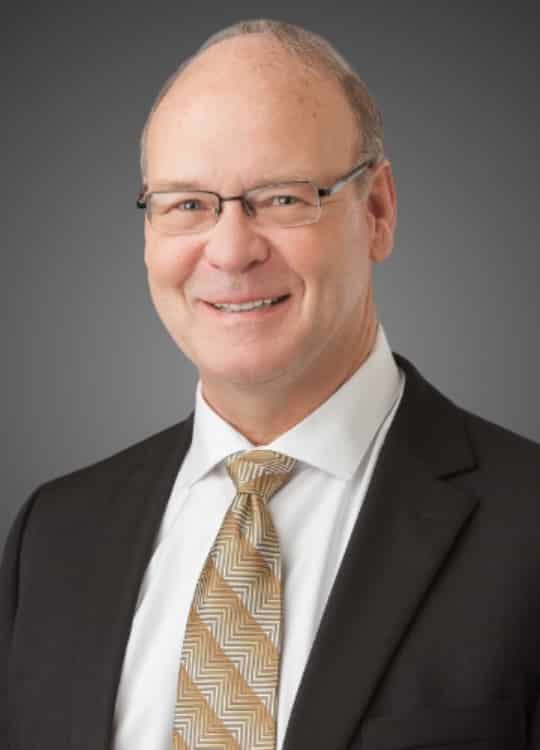 Orthopedic Surgeon and Hand & Wrist Doctor, Jeffrey J. Tiedeman, MD
Dr. Jeffrey J. Tiedeman is a skilled and compassionate doctor who can help you with any Hand, Shoulder & Elbow medical issue and get you feeling well.
Looking for a highly skilled and approachable physician to solve your shoulder and elbow issues? Dr. Tiedeman has a high level of expertise and skill and can get you back to enjoying your life once again.
Dr. Tiedeman and his wife of over 25 years have three children. He enjoys athletics including golfing, attending Creighton and University of Nebraska games. He is also a St. Louis Cardinals fan.
Education:
Undergraduate: Creighton University, Omaha, NE

Medical School: Creighton University School of Medicine, Omaha, NE

Residency: Creighton University/University of Nebraska Health Foundation, Omaha, NE

Fellowship: Orthopaedic Research, Creighton University/University of Nebraska Health Foundation, Omaha, NE

Fellowship: Hand and Upper Extremity Surgery, University of Iowa Hospitals and Clinics
Professional Memberships & Certifications
American Academy of Orthopaedic Surgeons
Nebraska Medical Association
American Medical Association
Nebraska Association of Orthopaedic Surgeons
Mid-Central States Orthopaedic Society
Mid-America Orthopaedic Association
American Society for Surgery of the Hand
Certificate of Added Qualification in Hand Surgery
FREQUENTLY TREATED UPPER EXTREMITY PROBLEMS AND CONDITIONS:
Arthritis 
Basal Joint Arthritis 
Boxer's Fracture 
Broken Bones 
Carpal Tunnel 
Colles' Fracture 
Complex Nerve Problems 
Congenital Abnormalities & Deformities 
De Quervain's Tenosynovitis 
Dupuytren's Contracture 
Finger Dislocations 
Finger Fracture 
Finger Amputations 
Ganglion Cysts 
Hand Fracture 
Hand Pain 
Hand Tendonitis 
Hand Trauma 
Joint Contractures 
Kienbock's Disease 
Mallet Finger 
Overuse Conditions 
Raynaud's Disease 
Sports-Related Injuries 
Tennis Elbow 
Trigger Finger 
Workers Comp & Occupational Injuries 
Wrist Fractures 
Wrist Pain 
Wrist Sprains & Strains 
Wrist Tendonitis 
Acromioclavicular Injuries 
Arthritis of the Elbow 
Arthritis of the Shoulder 
Biceps Tendon Rupture 
Biceps Tendonitis 
Broken Shoulder 
Burners & Stingers 
Collarbone Fracture 
Cubital Tunnel Syndrome 
Elbow Bursitis 
Elbow Growth Plate Injuries 
Elbow Tendon Inflammation 
Frozen Shoulder 
Golfer's Elbow 
Hill-Sachs Lesion 
Hyperextension of the Elbow 
Joint Stiffness 
Loose Shoulder (Instability) 
Osteochondritis Dissecans of the Elbow 
Overuse Injuries 
Radial Tunnel Syndrome 
Rotator Cuff Injury 
Rotator Cuff Tear 
Shoulder Blade Fracture 
Shoulder Bursitis 
Shoulder Dislocation 
Shoulder Impingement Syndrome 
Shoulder Separation 
Shoulder Socket Fracture 
SLAP Tear 
Snapping Shoulder Syndrome 
Tennis Elbow 
Throwing Injuries 
Triceps Tendonitis
UPPER EXTREMITY INJURY TREATMENTS & PROCEDURES:
Some upper extremity injuries will require surgery, some will not. Whatever the case, Dr. Tiedeman will work with you to find the best treatment for you. He offers both surgical and non-surgical treatments, including:
Arthritis Care and Treatment 
Cyst Removal 
DeQuervain's Release 
Endoscopic Carpal Tunnel Release 
Fracture & Dislocation Treatment 
Hand & Wrist Arthroscopy 
Joint Replacement 
Ligament Repair 
Microsurgical Flap Procedures 
Microvascular Surgery 
Nerve Repair 
Reconstructive Surgery 
Tendon Repair 
Trigger Finger Release 
Finger Amputations 
Non-surgical treatments such as splints, casts, exercise and strength building programs, pain management, and rehabilitative therapy 
Acromioclavicular Reconstructions 
Arthroscopic Bankart Repair 
Arthroscopic Capsular Plication 
Arthroscopic Capsular Release 
Arthroscopic Debridement of the Elbow 
Biceps Tendonitis 
Cubital Tunnel Release at the Elbow 
Elbow Arthroscopy 
Elbow Replacement 
Fracture Treatment 
Ligament Reconstruction 
Medial Epicondylectomy 
Medial Ulnar Collateral Ligament Reconstruction (Tommy John Surgery) 
Broken Shoulder Surgery 
Radial Tunnel Release at the Elbow 
Reverse Total Shoulder Replacement 
Rotator Cuff Repair 
Shoulder Arthroplasty 
Shoulder Impingement Surgery 
Shoulder Resurfacing 
SLAP Repair 
Total Shoulder Replacement 
Ulnar Nerve Transposition at the Elbow 
See what patients have to say about Dr. Tiedeman...