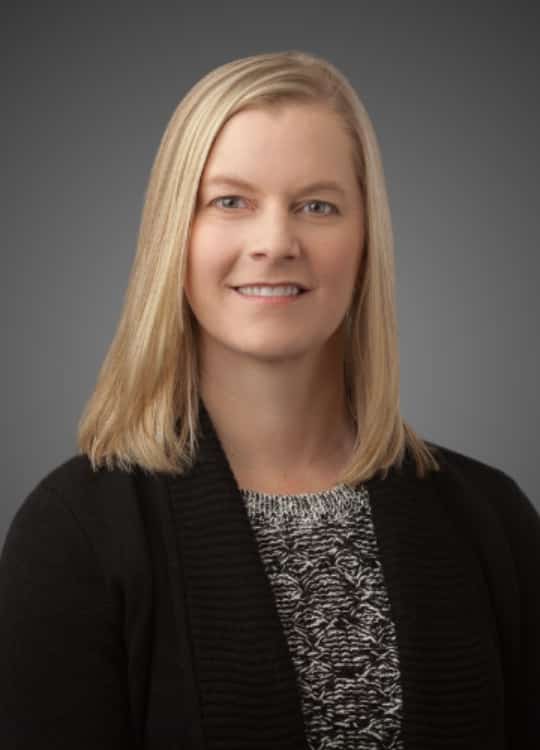 Kimberly A. Turman, MD - Orthopedic Surgeon: Sports Medicine
Dr. Turman received her medical degree from the University of Nebraska Medical Center and completed an orthopedic surgery residency at the Creighton/ Nebraska Health Foundation in Omaha, Nebraska. She completed further specialized training with a fellowship in sports medicine, arthroscopy, and reconstructive surgery at the University of Virginia, where she was also an associate team physician for the University of Virginia and James Madison University athletic programs.
Dr. Turman specializes in knee, shoulder, and hip arthroscopy and particularly enjoys ACL and multi-ligament reconstructions of the knee and labral repairs of the hip and shoulder. She is a team physician for Creighton University and Skutt Catholic High School.
Outside of work, Dr. Turman enjoys attending sporting events and activities of her 3 children. She is a former NCAA All-American gymnast at the University of Nebraska so understands the importance and enjoys returning patients back to the sport, work, and other activities as quickly and safely as possible.
Education:
Fellowship: Orthopaedic Sports Medicine, University of Virginia Health System, Charlottesville, VA
Residency: Creighton/University of Nebraska Medical Center, Omaha, NE
Medical School: University of Nebraska Medical Center, Omaha, NE
Undergraduate: University of Nebraska, Lincoln, NE
Professional Memberships & Certifications:
Certified, American Board of Orthopaedic Surgery
Subspecialty Certificate in Orthopaedic Sports Medicine
Member, American Academy of Orthopaedic Surgeons
Member, American Orthopaedic Society for Sports Medicine
Member, Arthroscopy Association of North America
Team Physician for Creighton Women's Soccer, Skutt Catholic High School
FREQUENTLY TREATED SPORTS INJURIES AND CONDITIONS:
Shoulder 
Rotator cuff tears
Labral & SLAP tears
Shoulder dislocations
Shoulder (AC joint) separations
Biceps tendon injuries
Frozen shoulder
Sprains and strains
Overuse injuries/tendonitis/bursitis/impingement
Arthritis
Hip
Labral tears
Hip impingement (FAI)
Hamstring tendon tears
Snapping hip
Sprains and strains
Overuse injuries/tendonitis/bursitis
Growth plate injuries
Arthritis
Knee
ACL and other ligament tears
Meniscus tears
Patella (kneecap) dislocations
Quad & patella tendon tears
Cartilage injuries/defects/OCD lesions
Sprains and strains
Overuse injuries/tendonitis/bursitis/patellofemoral syndrome
Growth plate injuries
Arthritis
SPORT INJURY TREATMENTS & PROCEDURES:
Some sports injuries will require surgery, some will not. Whatever the case, Dr. Turman will work with you to find the best treatment for you. She offers both surgical and non-surgical treatments, including:
Shoulder 
Rotator cuff repairs
Labral/SLAP repairs
Shoulder instability surgery/stabilization
Biceps tendon surgery/tenodesis
Non-operative Treatments: Custom bracing, Physical therapy, Injections
Hip
Labral repair/reconstruction
Impingement surgery
Hamstring tendon repair
Injection: Ultrasound-guided injection, Cortisone 
Non-operative Treatments: Custom bracing & Physical therapy
Knee
Ligament reconstructions (ACL and others)
Meniscus repair/meniscectomy
Patella (kneecap)instability surgery/stabilization
Cartilage restoration
Tendon repairs (quad/patella tendon)
Osteotomies
Injections: Viscosupplementation ('gel shots') & PRP (platelet-rich plasma)
Non-operative Treatments: Custom bracing & Physical therapy