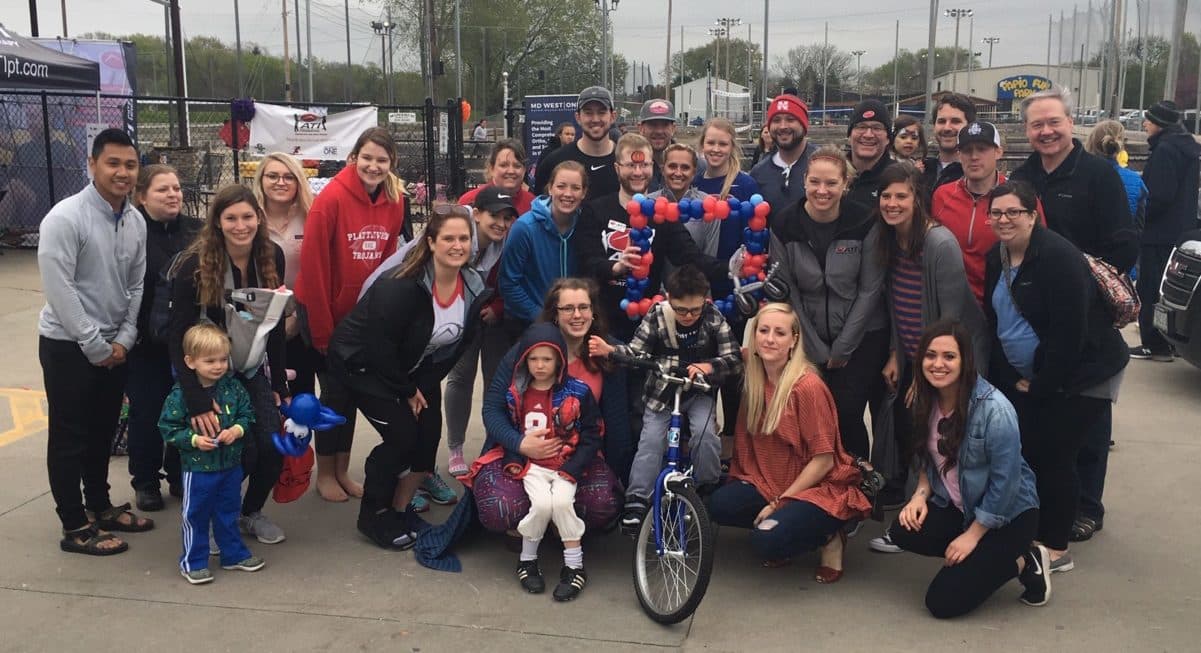 Emerson, a 7-year old Omaha boy born with a life-threatening condition, was the beneficiary of a bicycle at a charitable Sand Volleyball Tournament. The event was hosted by ATI Foundation and sponsored by MD West ONE on Saturday, April 27, 2019.
Emerson, the recipient, was diagnosed prenatally with Trisomy 18q. At that point in time, intervention care was denied by the prenatal team, and he was placed on prenatal hospice.  
"...when I was pregnant. Initially, we were told that he would not survive. So, we came home with hospice, and when he turned a year old, he got kicked off because he was doing so well…" said Emerson's mother, Tara, to the crowd of participants and sponsors.
Statistically, Emerson had a 10% chance of seeing his first birthday. When he beat those odds, he was given an 80% chance of seeing his fifth and tenth birthday. Now that he has reached age seven, there is little research beyond that for children with full Trisomy 18.  
"He is now almost 8 years old, and he just keeps proving over and over that he doesn't want to do what everyone told him he should do. So, a few years ago, we talked about getting him a bike and worked on getting him a bike and we weren't successful. He started having seizures, so we kind of put it on the back burner," explained Tara.  
That all changed when Emerson's older brother went to his teacher for a school project with hopes of getting his brother a bike so they could ride together. Their mother found the ATI Foundation and applied.  
ATI Foundation partnered with Preston's March for Energy to provide Emerson with a custom adaptive bicycle to meet his specific needs. Due to his ability to beat the odds, Emerson has already outgrown his special needs equipment, making him a perfect candidate to receive the custom bike.  
Now, Emerson can continue to grow stronger and participate in more family activities. His two older brothers and one young brother enjoy visiting national parks, hiking and jumping on the trampoline together, so they're thrilled to be able to ride bicycles with Emerson now.
The event, hosted by ATI Foundation, was directed by Emily Bateman a physical therapist at ATI.  
"My staff at the ATI downtown location have spent the last 3 months cutting raffle tickets, so I would like to thank all of them, and then all of the ATIs that have sold raffle tickets throughout the day and throughout the last 3 months. All of you that signed up to be teams, this is great. Our estimated total right now is $5600 that we have raised. I'd like to thank our corporate sponsor, MD West One, and all of the doctors that made it out today, so I appreciate all of them, as well. The Lewis Central cheerleaders are here to welcome him, and I guess we will go ahead and bring Emerson out on his new bike," said Emily.  
The event's premier sponsor, MD West ONE, an orthopedic, neurosurgery and spine practice was honored to support an event that gives back to children in the Greater Omaha Metro Area. Dr. Nicholas J. Wegner a foot and ankle specialist and Dr. Samuel P. Phillips a hip and knee specialist attended the event to cheer on the MD West ONE team which consisted of Hayley Christensen, PA-C and Matthew Martin, PA-C of MD West ONE.
Pictured below is the MD West ONE team with Emerson at the presentation of his new bicycle.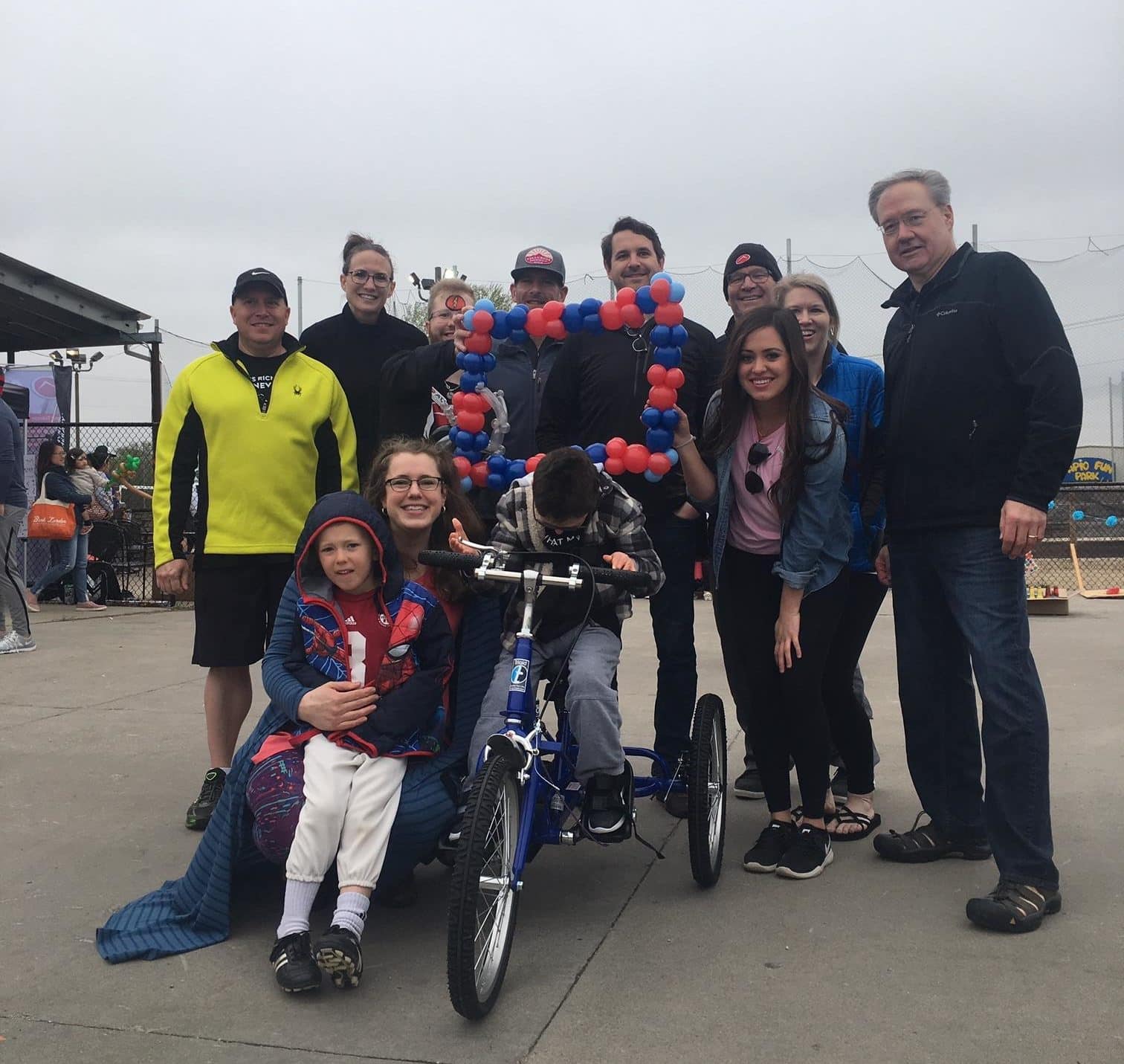 The entire MD West ONE team was excited to support this cause, especially two physicians who both have children with special needs. Dr. T. Kevin O'Malley, an orthopedic surgeon specializing in Knee and Sports Medicine said,
"We at MD West ONE were excited to join with the ATI Foundation in this event. Making it possible for children with special needs to be involved and engaged with their family, friends and the world around them was our goal. By minimizing their limitations, we can maximize their expectations."
Dr. Mark J. Puccioni of MD West ONE said,
"As a pediatric neurosurgeon and a father of a child with special needs, I witness and experience the many challenges these families face day in and day out. It's an honor to support an event that gives back to the children and families who need it the most." 
About MD West ONE:
MD West ONE, formerly GIKK Ortho Specialists and Midwest Neurosurgery & Spine, has harnessed a network of the most advanced orthopedic, neurosurgery and spine surgeons in the region. MD West ONE's surgeons specialize in surgical and non-surgical treatment of conditions and injuries affecting the entire musculoskeletal and nervous systems from head-to-toe. Whether you come to MD West One with pain stemming from an injury, over-usage, degeneration or illness, you'll have efficient access to high-quality, cost-effective care. Meet our team of experienced surgeons at mdwestone.com or call (402) 390-4111 to make an appointment.
About ATI Foundation:
Founded by ATI Physical Therapy in 2003, the ATI Foundation is a 501(c)(3) charitable organization that gives help and hope to children with physical impairments. It was created as a way for ATI employees and patients to give back to the communities in which we live, work and serve. 
Since its inception, the ATI Foundation has raised over $5,000,000 to make a day-to-day impact on the lives of more than 4,500 children in our communities. Our beneficiary families often have mounting debt, and are overcome by financial and physical obstacles. Through the work of our clinical and corporate team members, we raise funds to purchase medical equipment, pay bills, and even remodel families' homes to accommodate their child's special needs. But more importantly, we give families hope by offering a better quality of life for their child.