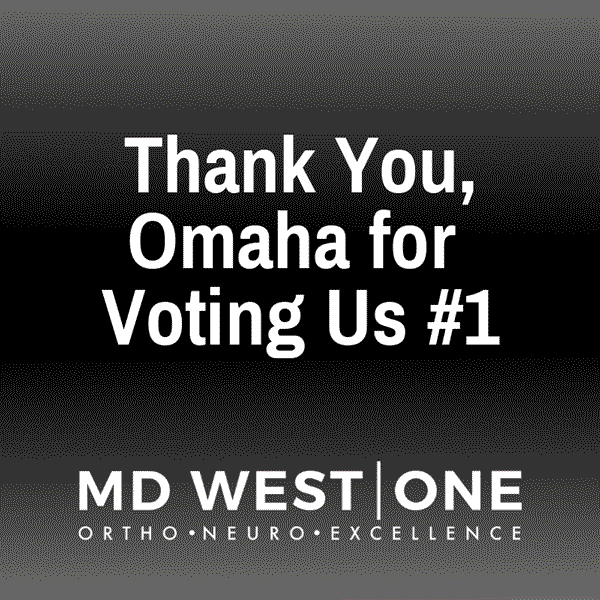 First Place, Private Practice Medical Clinic, Orthopedic Surgeon & Neurosurgeon
MD West ONE has been serving the Greater Omaha Metro Area for more than 70 years. Originally known as GIKK Ortho Specialists and Midwest Neurosurgery & Spine Specialists, MD West ONE is now the most comprehensive musculoskeletal and nervous system private practice in the region. Comprised of 14 orthopedic specialists, 9 neurosurgeons and 17 physician assistants, MD West ONE is honored to be awarded First Place Private Practice for 2020 Best of Omaha.
"ONE stands for Ortho Neuro Excellence, and it's our mission to deliver the most advanced, efficient orthopedic, neurosurgery and spine care in the area," explains Dr. Daniel Gaffney, an upper extremity orthopedic specialist at MD West ONE. Through their specialized approach, the physicians are able to focus their entire practice solely on the treatment of one area of the body. This gives them an unparalleled level of expertise in treating conditions of the entire musculoskeletal and nervous system from head-to-toe.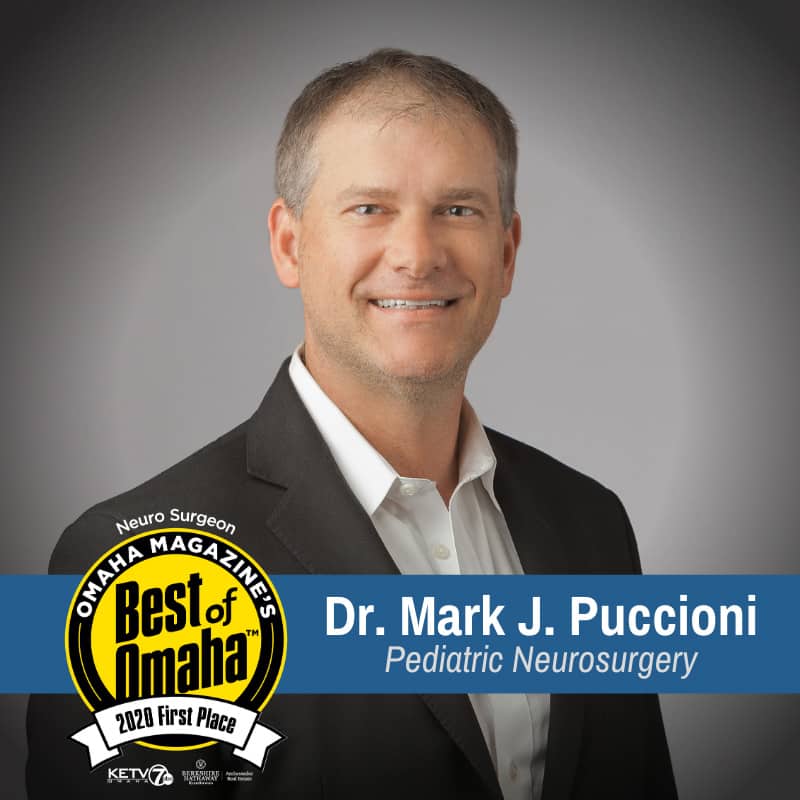 First Place, Neurosurgeon - Dr. Mark J. Puccioni
"I have dedicated my career to helping people and advocating for children, who can't for themselves," explains Dr. Mark J. Puccioni, Pediatric Neurosurgeon at MD West ONE.
Dr. Puccioni is the only Board Certified Pediatric Neurosurgeon in Nebraska and surrounding area and has been in practice for over 18 years. He specializes in pediatric neurosurgery and epilepsy surgery and cares for patients at the MD West ONE Neurosurgery clinic, Midwest Surgical Hospital, Boys Town National Research Hospital, the University of Nebraska Medical Center, and Methodist Health Systems.
Dr. Puccioni's Patients Say...
"Puccioni and his team saved my little boy's life! No words could ever express how grateful I am! You are all amazing."- Brian H.
"Dr. Mark Puccioni is Amazing! He helped our daughter by finding the source of her daily debilitating migraines was not actually migraines but increased intracranial pressure. She had a cyst that was blocking blood flow out of her brain. We have been to doctors all over and recently found Dr. Puccioni. He immediately said she had been misdiagnosed for 4 years. She underwent brain surgery with a craniotomy. Not something we entered into lightly. He removed her cyst 1 month ago and has not had a headache since. We are so very grateful that we have Dr. Puccioni! He gave our daughter her life back! And he was right here in Nebraska! We are so blessed to have such a skilled and talented surgeon in our backyard!" - Shelli S.
Learn more about Dr. Puccioni, the conditions he treats and why patients voted him number one in neurosurgery.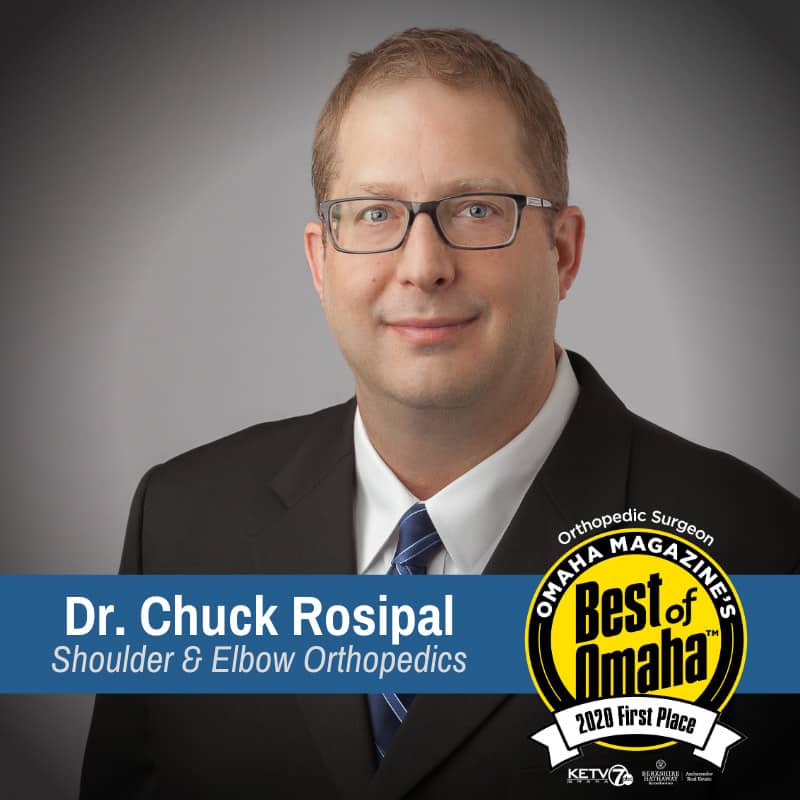 First Place, Orthopedic Surgeon - Dr. Charles Rosipal
"Outdoor activities like hunting, fishing, and golf inspire me to get my patients back to whatever it is that energizes them. Young or old, everyone has a passion—helping them return to their passion is fulfilling to me on a daily basis," explains Dr. Rosipal, voted First Place in Orthopedic Surgery for Best of Omaha 2020.
Dr. Charles E. Rosipal completed his fellowship under Drs. Charles A. Rockwood and Michael A. Wirth in shoulder and elbow surgery at the University of Texas Health Science Center of San Antonio. He devotes the majority of his practice to problems of the shoulder and elbow with special interest in acute and chronic rotator cuff surgery, shoulder instability and traditional and reverse shoulder arthroplasty (shoulder replacements).
Dr. Rosipal's Patients Say...
"Dr. Rosipal saved me from a complete shoulder replacement which another Dr. said was my only solution. He suggested conservative approach. Four months out from repair surgery and it feels fine." - Diane B. "I recently had surgery on my shoulder. Extremely professional and courteous staff. Dr. Rosipal is very knowledgeable and truly cares about his patients. He takes the time to explain everything in great detail and answer all your questions. Thank you Dr. Rosipal, Ang, Scott and the rest of the MD West One team for a great experience!" - Sean L.
Learn more about Dr. Rosipal, the conditions he treats and why patients voted him number one in orthopedic surgery.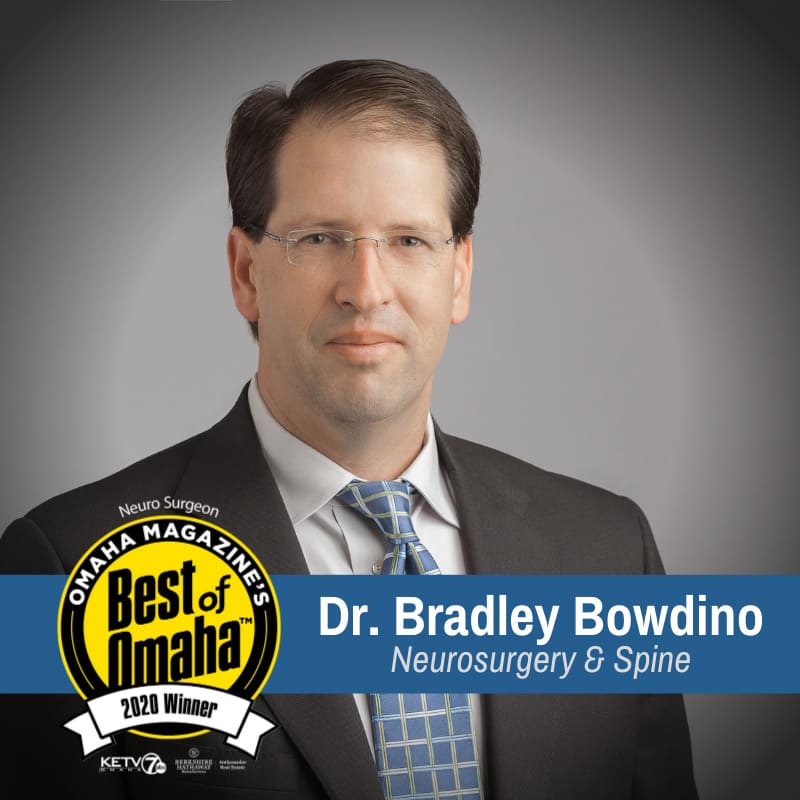 Winner, Neurosurgeon - Dr. Bradley Bowdino
Dr. Bradley Bowdino provides care for both adult and pediatric patients in his practice with a particular interest in clinical problems related to the skull base and the treatment of those diseases. Complex spinal instrumentation and minimally invasive surgery including vertebroplasty are additional areas of special concentration. A native of Hamilton, Montana, he continues to enjoy a variety of outdoor activities at every opportunity. 
Dr. Bowdino's Patients Say...
"This is a nationally top rated neurosurgery practice. Dr Bowdino is straightforward and conservative in his approach. No surgery just to make money. He is down to earth and not an egotist. He has never been condescending to me as an older and single woman. I have had two surgeries and a non-surgical outcome by Dr Bowdino that were all excellent. I really appreciate that the imaging center is right downstairs and gets results to the doctor quickly. I've had images done the same day, rarely waiting more than 30 minutes. Coming from out of town this saves a lot of time and money. Time is allowed for adequate healing before physical therapy." - Laurie H.
Learn more about Dr. Bowdino, the conditions he treats and why patients voted him as one of the best in neurosurgery.