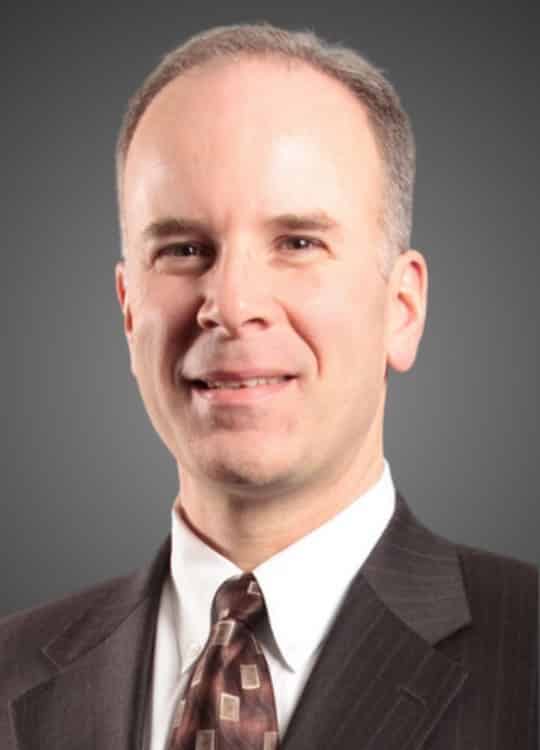 Mark Franco, M.D. - Orthopedic Surgeon
Growing up, Dr. Mark Franco was always a curious person. He loved finding solutions to problems others would find too challenging. He also loved building and fixing things. His curiosity for the intricacies of the world around him left him wanting a career that constantly presented a new challenge. Wanting to use his skills to help people, Dr. Franco decided a career in the medical field would be a perfect fit.
He went on to attend medical school at the University of Nebraska Medical Center. He later completed his orthopedics residency at the Mayo Graduate School of Medicine. Today, he is an Orthopedic Surgeon and previously the Medical Director of Neuro-Musculoskeletal Services for Physical and Occupational Therapy at Methodist Physicians Clinic.
Dr. Franco strives to provide patients with the best possible care. His mission is to work together with patients to create a tailor-made treatment plan. He is also a big believer in trust in respect—since his orthopedics involves invasive procedures, it is important for him to assure patients he will deliver exceptional care and results.
In his free time, Dr. Franco enjoys being active. He loves being outdoors, often going on runs to stay in shape. When he needs peace and quiet, one can often find him in the tranquility of his lawn and garden.
Education:
Fellowship: Rush Medical Center, Chicago, IL
Residency: Mayo Clinic, Rochester, MN
Medical School: University Of Nebraska Medical Center, Omaha, NE
Undergraduate: Creighton University, Omaha, NE
Professional Memberships & Certifications:
American Board of Orthopaedic Surgery
Nebraska Medical Association
Nebraska Association Orthopaedic Surgeons
FREQUENTLY TREATED ORTHOPEDIC PROBLEMS AND CONDITIONS:
Ankle Fracture and Traumas
Foot Fractures and Traumas
Femoral Fractures
Hip Arthritis
Hip Bursitis
Hip Dislocation
Hip Fractures
Hip Muscle Strains
Knee Arthritis
Knee Bursitis
Meniscus Tears
Osteochondritis Dissecans of the Knee
Broken Knee Cap
Patella Tendon Rupture
Shin Splints
Snapping Hip Syndrome
Tibial Fractures
Torn Anterior Cruciate Ligament (ACL)
Torn Posterior Cruciate Ligament (PCL)
Basal Joint Arthritis
Boxer's Fracture
Broken Bones
Carpal Tunnel
Colles Fracture
De Quervain's Tenosynovitis
Ganglion Cysts
Hand Fractures
Mallet Finger
Tennis Elbow
Trigger Finger
Wrist Fractures
Wrist Sprains & Strains
Wrist Tendonitis
Acromioclavicular Injuries
Arthritis of the Elbow
Arthritis of the Shoulder
Biceps Tendon Rupture
Biceps Tendonitis
Broken Shoulder
Collarbone Fractures
Cubital Tunnel Syndrome
Elbow Bursitis
Frozen Shoulder
Golfer's Elbow
Hill-Sachs lesion
Loose Shoulder (Instability)
Osteochondritis Dissecans of the Elbow
Rotator Cuff Injury
Rotator Cuff Tear
Shoulder Bursitis 
Shoulder Dislocation
Shoulder Impingement Syndrome
Shoulder Separation
Tennis Elbow
Throwing Injuries
Triceps Tendonitis
ORTHOPEDIC TREATMENTS & PROCEDURES:
Some orthopedic problems will require surgery, some will not. Whatever the case, Dr. Franco will work with you to find the best treatment for you. He offers both surgical and non-surgical treatments, including:
ACL Reconstruction
Cartilage Repair
Femur Fracture Fixation
Hip Fracture Treatment
Hip Revision Surgery
Injections
Knee Arthroscopy
Knee Revision Surgery
Loose Body Removal
Meniscus Repair
Mini-incision Total Hip Replacement
Mini-incision Total Knee Replacement
Minimally Invasive Joint Surgery
Partial Knee Replacement
Partial Meniscectomy
PCL Reconstruction
Total Hip Replacement
Total Knee Replacement
Uni-Knee Resurfacing
Arthritis Care and Treatment
Cyst Removal
De Quervain's Release
Fracture & Dislocation Treatment
Shoulder Replacement
Elbow Replacement
Tendon Repair
Trigger Finger Release
Acromioclavicular Reconstruction
Arthroscopic Bankart Repair
Open Bankart Repair
Biceps Tendonitis
Cubital Tunnel Release at the Elbow
Elbow Arthroscopy for Loose Bodies
Elbow Replacement
Medical Epicondylectomy
Reverse Total Shoulder Replacement
Rotator Cuff Repair
Shoulder Arthroplasty
Shoulder Impingement Surgery
Total Shoulder Replacement
Ulnar Nerve Transposition at the Elbow
Non-surgical treatments such as splints, casts, exercise and strength building programs, pain management, and rehabilitative therapy
See what patients have to say about Dr. Franco: