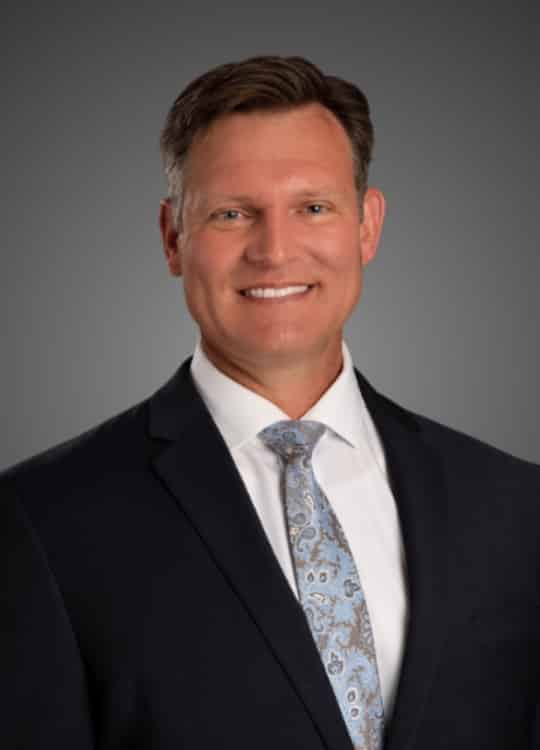 Darren Keiser, MD - Orthopedic Specialist
Dr. Darren Keiser has always had a desire to make an impact on people's lives. After a two-year mission trip to Guatemala, he was a firsthand witness to people suffering from not having adequate health care. Wanting to be part of the solution, he vowed he would one day become a physician to help those in need.
Dr. Keiser went on to attend medical school at the University of Nebraska Medical Center. He later decided to specialize in orthopedics and completed his residency at the University of Tennessee – Campbell Clinic. Today, he was an orthopedic surgeon at Methodist Physicians Clinic.
Dr. Keiser is dedicated to delivering the best care to his patients. His mission is to keep them informed about their care and treatments. He also strives to build trust and instill optimism so that patients can have an active role in making smart decisions regarding their care.
In his free time, Dr. Keiser enjoys spending time with his family and being an active member of his church and community. He also loves staying busy, frequently being outdoors, attending music and sporting events, and traveling.
Education:
Residency: University of Tennessee: The Campbell Clinic, Memphis, TN
Internship: Methodist Hospitals, Memphis, TN
Medical School: University of Nebraska College of Medicine, Omaha, NE
Undergraduate: Brigham Young University, Provo, UT
Professional Memberships & Certifications:
American Board of Orthopaedic Surgery
Fellow of American Academy of Orthopaedic Surgery
FREQUENTLY TREATED ORTHOPEDIC INJURIES AND CONDITIONS:
Femoral Fractures
Hip Arthritis
Hip Bursitis
Hip Dislocation
Hip Fractures
Hip Muscle Strains
Runner's Knee (Patellofemoral Pain Syndrome)
Knee Arthritis
Knee Bursitis
Meniscus Tears
Osteochondritis Dissecans of the Knee
Broken Knee Cap
Patella Tendon Rupture
Shin Splints
Snapping Hip Syndrome
Thigh Muscle Strains
Tibial Fractures
Torn Anterior Cruciate Ligament (ACL)
Acromioclavicular Injuries
Arthritis of the Elbow
Arthritis of the Shoulder
Biceps tendon Rupture
Biceps Tendonitis
Broken Shoulder
Burners & Stingers
Collarbone Fracture
Cubital Tunnel Syndrome
Elbow Bursitis
Elbow Tendon Inflammation
Frozen Shoulder
Golfer's Elbow
Hill Sachs Lesion
Joint Stiffness
Loose Shoulder (Instability)
Overuse Injuries
Rotator Cuff Injury
Rotator Cuff Tear
Shoulder Blade Fracture
Shoulder Bursitis
Shoulder Dislocation
Shoulder Impingement Syndrome
Shoulder Separation
Shoulder Socket Fracture
SLAP Tear
Snapping Shoulder Syndrome
Tennis Elbow
Throwing Injuries
Tricep Tendonitis
Carpal Tunnel
Colles' Fracture
De Quervain's Tenosynovitis
Tennis Elbow
Trigger Finger
Wrist Fractures
Wrist Sprains & Strains
Wrist Tendonitis
Achilles Tendon Injuries
Ankle Sprains
Arthritis of the Ankle
Arthritis of the Foot
Foot & Ankle Stress Fractures
Foot & Ankle Trauma
Broken Toe or Metatarsal
Gout
Heel Pain
Jones Fractures
Plantar Fasciitis
Sports-related Injuries
ORTHOPEDIC TREATMENTS & PROCEDURES:
Some orthopedic injuries will require surgery, some will not. Whatever the case, Dr. Keiser will work with you to find the best treatment for you. He offers both surgical and non-surgical treatments, including:
ACL Reconstruction
Cartilage Repair
Femur Fracture Fixation
Hip Fracture Treatment
Injections
Knee Arthroscopy
Loose Body Removal
Meniscus Repair
Partial Meniscectomy
Total Hip Replacement
Total Knee Replacement
Acromioclavicular Reconstructions
Arthroscopic Bankart Repair
Arthroscopic Capsular Release
Biceps Tendonitis
Cubital Tunnel Release at the Elbow
Fracture Treatment
Broken Shoulder Surgery
Reverse Total Shoulder Replacement
Rotator Cuff Repair
Shoulder Arthroplasty
Shoulder Impingement Surgery
Shoulder Resurfacing
SLAP Repair
Total Shoulder Replacement
Cyst Removal
Carpal Tunnel Release
Dislocation Treatment
Trigger Finger Release
Ankle Fracture Surgery
Achilles Tendon Rupture Surgery
Arthritis Care and Treatment
Non-surgical treatments such as splints, casts, exercise, and strength-building programs, pain management, and rehabilitative therapy
See what patients have to say about Dr. Keiser...
For additional information about Dr. Keiser, please click on the links below to learn more.