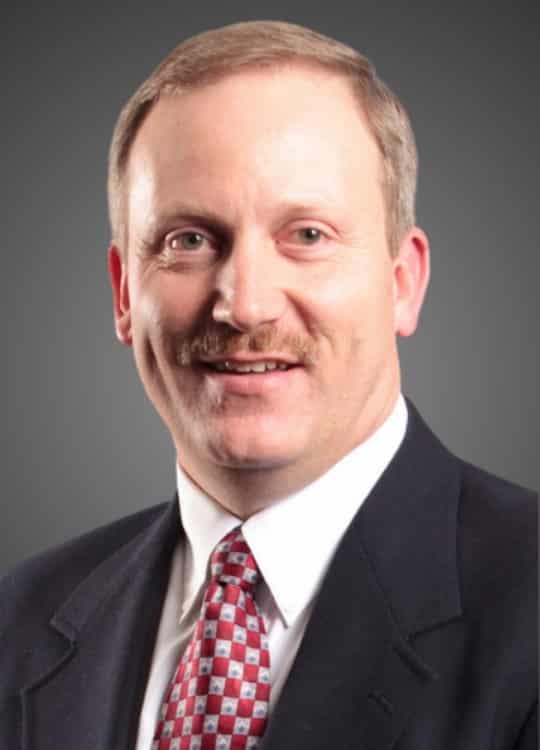 Orthopedic Surgeon, Mark Pitner, MD
Dr. Pitner has always had a passion for helping people, so growing up, there was never a doubt in his mind that he would one day become a doctor. With his goal set in mind, he attended medical school at the University of Nebraska Medical Center. Wanting to acquire a high-level set of skills, he specialized in orthopedics and completed his residency at Mayo Graduate School of Medicine. Today, he is an orthopedic surgeon at Methodist Physicians Clinic.
Dr. Pitner values the importance of long-term health and is dedicated to providing nothing short of exceptional results. As a specialist in joint replacement, he employs every skill to deliver care that will allow patients to live a full, pain-free life.
In his free time, Dr. Pitner enjoys spending time with his family, frequently attending his kids' events. He also loves being outdoors, engaging in activities such as hunting, boating, skiing, and other sports.
Education:
Residency: Mayo Graduate School of Medicine
Medical School: University of Nebraska Medical Center, Omaha, NE
Undergraduate: University of Nebraska, Omaha, NE
Professional Memberships & Certifications:
American Board of Orthopaedic Surgery
American Academy of Orthopaedic Surgeons
Nebraska State Medical Association
Metro Omaha Medical Society
Nebraska Orthopaedic Society
Omaha Orthopaedic Society
FREQUENTLY TREATED ORTHOPEDIC PROBLEMS AND CONDITIONS:
Achilles Tendon Injuries
Ankle Instability
Ankle Sprains
Arthritis of the Ankle
Arthritis of the Foot
Claw Toe
Foot & Ankle Stress Fractures
Fractures and Trauma
Broken Toe or Metatarsal
Gout
Haglund's Deformity
Heel Bone Fracture
Heel Pain
Jones Fracture
Midfoot (LisFranc) Fracture
Mortons Neuromas
Peroneal Tendon Tears
Plantar Fasciitis
Stiff Big Toe
Structural Deformities
Tendon Injuries
Femoral Fractures
Hip Arthritis
Hip Bursitis
Hip Dislocation
Hip Fractures
Snapping Hip Syndrome
Runner's Knee (Patellofemoral Pain Syndrome)
Knee Arthritis
Knee Bursitis
Labral Tears of the Hip
Loose Bodies of the Hip
Meniscus Tears
Osteochondritis Dissecans of the Knee
Broken Knee Cap
Patella Tendon Rupture
Quadriceps Tendon Rupture
Shin Splints
Thigh Muscle Strains
Tibial Fractures
Torn Anterior Cruciate Ligament (ACL)
Torn Posterior Cruciate Ligament (PCL)
Medial & Lateral Collateral Injury
Basal Joint Arthritis
Boxer's Fracture
Carpal Tunnel
Colles' Fracture
Complex Nerve Problems
De Quervain's Tenosynovitis
Finger Dislocations
Finger Amputations
Ganglion Cysts
Hand Fracture
Hand Pain
Hand Tendonitis
Hand Trauma
Mallet Finger
Overuse Conditions
Sports-Related Injuries
Tennis Elbow
Trigger Finger
Wrist Fractures
Wrist Pain
Wrist Sprains & Strains
Wrist Tendonitis
Acromioclavicular Injuries
Arthritis of the Elbow
Arthritis of the Shoulder
Biceps Tendon Rupture
Biceps Tendonitis
Burners & Stingers
Collarbone Fracture
Cubital Tunnel Syndrome
Elbow Bursitis
Elbow Growth Plate Injuries
Elbow Tendon Inflammation
Frozen Shoulder
Golfer's Elbow
Hill-Sachs Lesion
Hyperextension of the Elbow
Joint Stiffness
Loose Shoulder (Instability)
Osteochondritis Dissecans of the Elbow
Radial Tunnel Syndrome
Rotator Cuff Injury
Shoulder Bursitis
Shoulder Dislocation
Shoulder Impingement Syndrome
Shoulder Separation
Glenoid Fracture
SLAP Tear
Snapping Shoulder Syndrome
Tennis Elbow
Triceps Tendonitis
ORTHOPEDIC TREATMENTS & PROCEDURES:
Some orthopedic problems will require surgery, some will not. Whatever the case, Dr. Pitner will work with you to find the best treatment for you. He offers both surgical and non-surgical treatments, including:
FREQUENTLY TREATED ORTHOPEDIC PROBLEMS AND CONDITIONS: