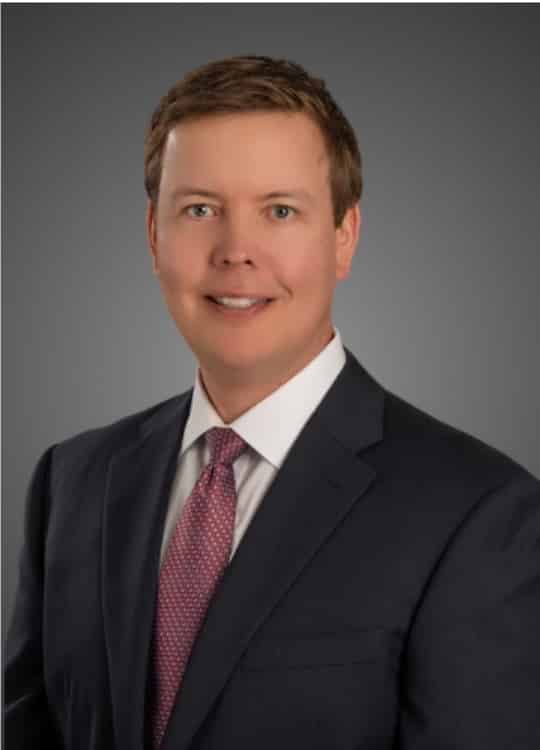 Jon Uggen, DO, FAAOS - Orthopedic Surgeon: Hip & Knee
Voted #1 Orthopedic Surgeon in Best of Omaha 2021, 2022 & 2023
Jon Uggen, D.O. is a Board Certified Orthopaedic Surgeon fellowship trained in Adult Reconstruction/Total Joint Replacement Surgery. He has experience in the latest procedures including the less invasive/muscle-sparing anterior approach for total hip replacements, unicondylar knee arthroplasty (partial knee replacement), and complex total joint revisions.
Dr. Uggen is a native of Kalamazoo, MI and is the second generation in his family to practice orthopaedic surgery. He received a Bachelor of Science in Biology from The University of Michigan and received his medical degree from Midwestern University in Chicago. While in medical school, Dr. Uggen was awarded a fellowship with the New York Arthritis Foundation. There he performed research with his brother, also an orthopaedic surgeon, and received top national honors for his research. Following medical school, he completed a five-year orthopedic surgery residency at Garden City Hospital, an affiliate of Michigan State University.
Dr. Uggen was awarded a one year Orthopaedic Adult Reconstruction Total Joint Replacement Surgery Fellowship at the world-renowned Anderson Orthopaedic Research Institute in Alexandria, VA. During fellowship, Dr. Uggen studied and learned the innovative techniques of minimally invasive total knee replacement, unicompartmental knee arthroplasty, anterior approach to total hip replacements, and complex hip and knee revision arthroplasty. He continued with his research interest during his fellowship and has co-authored several papers and textbook chapters in total joint replacement.
Dr. Uggen started practice in 2013 in Omaha and Fremont, where he served as the Medical Director for the Joint Replacement Program at Fremont Health. He also served as the Medical Director for Fremont Health Orthopaedics and Sports Medicine Clinic. He joined Methodist Physicians Clinic Orthopaedics in the Spring of 2017. Methodist Physicians Clinic then joined MD West ONE March 2020, resulting in one of the largest teams of orthopedic, neurosurgery and spine specialists in the greater Omaha region.
Dr. Uggen's father, a retired orthopaedic surgeon, and his mother, a retired registered nurse, helped instill the core values of Dr. Uggen's orthopaedic practice. His philosophy is to care for every patient to the best of his ability and treat them like a member of his family. His goal in joint replacement is to restore quality of life to his patients by relieving pain and restoring function through joint replacement and other non-surgical treatment options. He believes a well-informed patient will approach a surgical procedure and postoperative experience with greater enthusiasm and less apprehension.
In his free time, Dr. Uggen enjoys spending time with his wife and two young daughters. He also enjoys outdoor activities, hunting, camping, water sports, kiteboarding, skiing, and traveling.
Education:
Fellowship: Anderson Orthopaedic Research Institute Alexandria, VA
Residency: Michigan State University College of Osteopathic Medicine Garden City Hospital, Garden City, MI
Medical School: Midwestern University Chicago College of Osteopathic Medicine, Downers Grove, IL
Undergraduate: University of Michigan, Ann Arbor, MI
Professional Memberships & Certifications:
American Osteopathic Board of Orthopedic Surgeons
FREQUENTLY TREATED HIP & KNEE PROBLEMS AND CONDITIONS:
Knee Pain
Chondromalacia Patella
Medial Meniscus Tear
Lateral Meniscus Tear
Chondral (Articular Cartilage Defects)
HIP & KNEE TREATMENTS & PROCEDURES:
Some hip and knee problems will require surgery, some will not. Whatever the case, Dr. Uggen will work with you to find the best treatment for you. He offers both surgical and non-surgical treatments, including:
Computer Navigation Total Knee Replacement 
Robotic-Assisted Total Knee Arthroplasty (ROSA)
PatelloFemoral Knee Replacement
Injections
Rapid Recovery Program for Joint Replacement
See what patients have to say about Dr. Uggen...