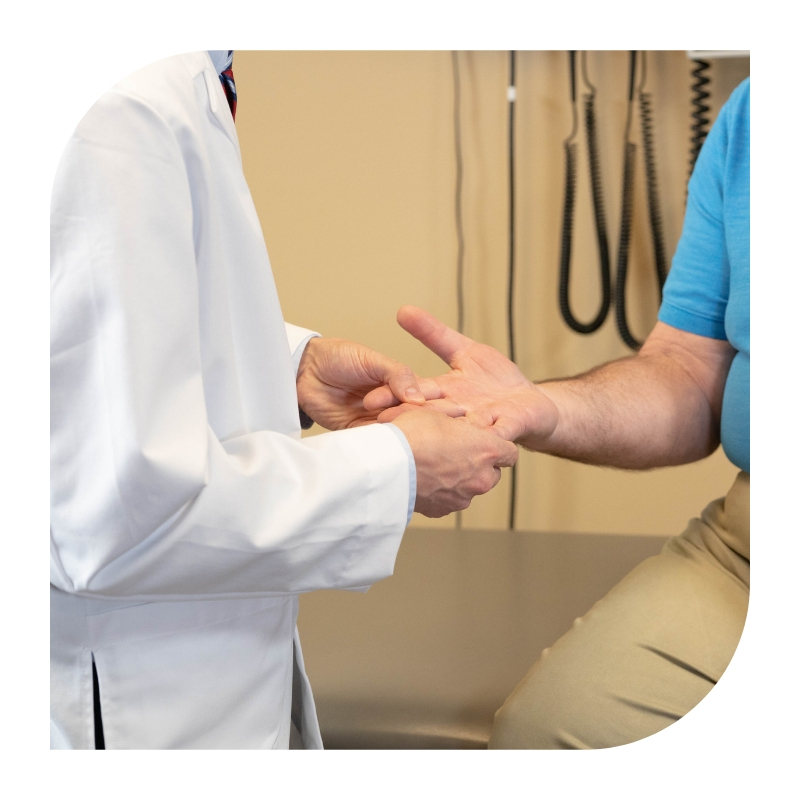 Omaha Hand and Wrist Specialists
The hand and wrist are complicated parts of the body. When you have hand pain, wrist pain, or have suffered an injury, you want a doctor who is highly experienced with problems like yours, and that is what you will find at MD West ONE.
Fellowship-Trained Hand Surgeons
The hand surgeons at MD West ONE are fellowship-trained, which means they have taken additional training in hand and wrist beyond their medical and orthopedic specialty training. These surgeons have an exceptional understanding of every part of the hand and wrist, down to the microscopic workings of blood vessels and nerves. From hand arthritis, carpal tunnel, workers' comp injuries to wrist sprains, MD West ONE's hand surgeons will help you find relief from your hand or wrist pain.
80-95% of our hand specialists cases are focused on the hand and wrist, giving them unparalleled expertise in a wide range of hand and wrist conditions from simple to the most complex.
MEET OUR HAND & WRIST SPECIALISTS
FREQUENTLY TREATED HAND & WRIST PROBLEMS AND CONDITIONS:
Boxer's Fracture
Broken Bones
Colles Fracture
Complex Nerve Problems
Congenital Abnormalities & Deformities
DeQuervain's Tenosynovitis
Dupuytren's Disease
Finger Dislocations
Finger Fracture
Ganglion Cysts
Hand Fractures
Hand Pain
Hand Tendonitis
Hand Trauma
Joint Contractures
Kienbock's Disease
Mallet Finger
Overuse Conditions
Raynaud's Disease
Sports-Related Injuries
Tennis Elbow
Trigger Finger
Workers Comp & Occupational Injuries
Wrist Fractures
Wrist Pain
Wrist Sprains & Strains
Wrist Tendonitis
HAND AND WRIST TREATMENTS & PROCEDURES:
We understand that the decision of having hand surgery or wrist surgery is not a decision you take lightly. That's why we take a conservative approach to care, offering both surgical and non-surgical treatments, including:
Arthritis Care and Treatment
Cyst Removal
DeQuervain's Release
Endoscopic Carpal Tunnel Release
Fracture & Dislocation Treatment
Hand & Wrist Arthroscopy
Joint Replacement
Ligament Repair
Microsurgical Flap Procedures
Microvascular Surgery
Nerve Repair
Reconstructive Surgery
Tendon Repair
Trigger Finger Release
Non-surgical treatments such as splints, casts, exercise and strength building programs, pain management, and rehabilitative therapy
---
Arthritis
If you are feeling pain and/or stiffness in your hand or wrist, you may be suffering from arthritis. Arthritis destroys cartilage and causes your bones to rub against one another, which causes inflammation in the small joints of your hand and wrist. Signs and symptoms of arthritis include:
Weakness
Stiffness
Swelling
Limited range of motion
Cracking, clicking, grinding sounds
There are four types of arthritis that can affect the hand and/ or wrist:
Osteoarthritis (OA): develops overtime as cartilage naturally wears down
Rheumatoid Arthritis (RA): an autoimmune disease that causes the body to attack its own tissues
Psoriatic Arthritis: an inflammatory skin and joint disease
Posttraumatic Arthritis (PA): occurs after an injury to the hand or wrist
→   Make an appointment if you are experiencing signs and symptoms of arthritis in your hand or wrist. 
---
Boxer's Fracture
A boxer's fracture is a break in the neck of the fifth metacarpal bone in the hand. It gets its name because the injury is common in inexperienced boxers. Metacarpal bones, in general, are some of the most commonly fractured bones in the hands. A large percentage of these qualify as "boxer's fractures."
Boxers are not the only people who can get a boxer's fracture, but usually the injury results from direct injury to a clenched fist. The force fractures the neck of the metacarpal bone below the pinky.
A hand surgeon will need to distinguish boxer's fractures from other metacarpal fractures, which break the shaft of the metacarpal, or fractures of the base of the small finger. These injuries may need different treatments.
→   Make an appointment if you are experiencing signs and symptoms of boxer's fracture. 
---