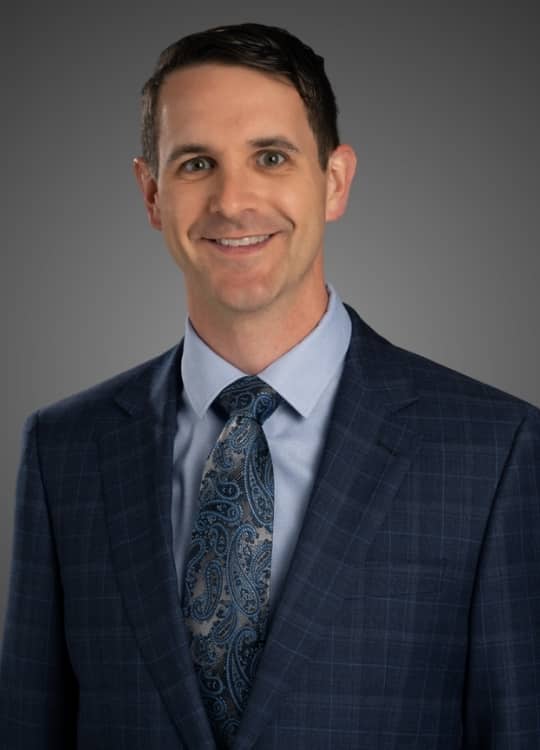 Dr. Nicholas J. Wegner - Orthopedic Surgeon, Foot & Ankle 
Specializing in Lower Extremity Trauma and Minimally Invasive Foot & Ankle Surgery
Dr. Wegner's focus is on injuries and conditions of the foot and ankle. He received his medical degree from Northwestern Feinberg School of Medicine in Chicago and completed an orthopedic surgery residency at the University of Washington Affiliated Hospitals. He has further specialized, fellowship training from the Hospital of the University of Utah in Salt Lake City in the foot and ankle.
Dr. Wegner is a board-certified orthopedic surgeon that is fellowship-trained in foot and ankle surgery. Having trained at one of the busiest trauma centers in the country, he specializes in taking care of patients with lower extremity trauma injuries and fractures below the hip and knee.
Dr. Wegner and his wife, Krystal, have two daughters, Ara and Kate, that keeps him on his toes and has made him an expert on Daniel Tiger and Curious George. In his free time, Dr. Wegner enjoys outdoor activities such as hiking and skiing. He is an avid fan of college basketball and is a diehard USC football fan – Fight on Trojans!
"Being a surgeon, I know it's not all about surgery: it's about understanding each patient as an individual and finding the best treatment option for you to get you back on your feet. I am fortunate that my patient relationships often extend well beyond the typical physician-patient relationship, in that they become a meaningful partnership with a common goal."
Education:
Fellowship: Foot & Ankle, Hospital of the University of Utah, Salt Lake City, UT

Residency: University of Washington Affiliated Hospitals, Seattle WA

Medical School: Northwestern Feinberg School of Medicine, Chicago, IL

Undergraduate: University of Southern California, Los Angeles, CA
Professional Memberships & Certifications:
American Board of Orthopedic Surgery
FREQUENTLY TREATED FOOT & ANKLE PROBLEMS AND CONDITIONS:
Achilles Tendon Injuries 
Ankle Instability 
Ankle Sprains 
Arthritis of the Ankle 
Arthritis of the Foot 
Bunions 
Claw Toe 
Clubfoot 
Diabetic Foot 
Flat Foot 
Foot & Ankle Stress Fractures 
Foot Tingling 
Fractures and Trauma
Broken Toe or Metatarsal
Gout 
Haglund's Deformity 
Hammer Toe 
Heel Bone Fracture 
Heel Pain 
Jones Fractures 
Midfoot (LisFranc) Fracture 
Mortons Neuromas 
Peroneal Tendon Tears 
Plantar Fasciitis 
Sports-related Injuries 
Stiff Big Toe 
Structural Deformities 
Tendon Injuries 
FOOT & ANKLE TREATMENTS & PROCEDURES:
Some foot and ankle problems will require surgery, some will not. Whatever the case, Dr. Wegner will work with you to find the best treatment for you. He offers both surgical and non-surgical treatments, including:
Achilles Tendon Lengthening 
Ankle Fracture Surgery 
Ankle Fusion 
Ankle Replacements 
Arthroscopic Ankle Cartilage Repair 
Arthroscopy 
Bone Spur Removal 
Bunion and forefoot/lesser toe deformity surgery 
Bunion Surgery / Bunionectomy 
Debridement of the Achilles Tendon
Endoscopic Plantar Fascia Release 
Joint Arthrodesis 
Ligament Reconstruction 
Midfoot Fusion 
Removal of Mortons Neuromas 
Resection of Haglund's Deformity 
Surgery for Achilles Tendon Rupture 
Tendon Reconstruction and Repair 
See what patients have to say about Dr. Wegner...